Is Pattaya worth the trip?
In today's travelogue we will show you whether Pattaya is worth a trip. Pattaya is a popular destination for vacationers and expats, but the city's bad reputation precedes it. It is precisely this reputation that has kept us from visiting Pattaya and giving the city a chance for a long time.
Pattaya - a travelogue about the notorious city
During our last stay in Bangkok we spontaneously decided to take a look at the city. Always with the thought in mind to be able to disappear again quickly. You can find out how it was there for us in this travelogue about Pattaya.
---
Arrival to Pattaya
The best way to travel from Germany is to take a flight to Bangkok and from there take a bus or taxi to Pattaya. From a few destinations abroad, e.g. from Kuala Lumpur or Singapore, you can also get directly to U-Tapao Airport, which serves Pattaya. There are of course many other connections within Thailand. You can find more information on this at Skyscanner or Momondo.
Furthermore, there are various ways to reach Pattaya, be it from Isaan, the east of Thailand or from Bangkok. Large coaches, minivans, or taxis run regularly to Pattaya. Whether you want to get to Pattaya from Khao San Road, directly from the airport or your hotel from Bangkok, there are many options. You can find out everything you need to know about times, tickets and prices at 12go.asia.
Overnight in Pattaya - our hotel tip
Pattaya offers many accommodations in all price ranges. The At Mind Exclusive is a great place to stay here. The location is great and the Beach Road from Pattaya you can walk from this hotel in less than 10 minutes. The rooms offer everything you need and are very modern, so that you feel at home straight away. You can find more hotels in Pattaya on this page.
Pattaya: Tours and Tickets
---
1. The beaches of Pattaya
We are beach fans. We love the heavenly beaches of Thailand and the rest of Southeast Asia. So it was obvious to have a look at the beaches of Pattaya. To be honest, we didn't have great expectations, but unfortunately even these very low expectations were disappointed.
The Pattaya Beach is really dirty, paved with loungers and umbrellas and definitely doesn't invite us to swim. The water quality is said to be considerably better there by now, so we would rather not know what it was like before. Anyway, there is rubbish everywhere and we almost don't want to walk barefoot on the beach. Not worth a visit.
After the disappointment, we still looked at another beach, the Jomtien Beach. Even if it's a lot cleaner here, we can't get anything out of the beach either. We definitely don't have to come to Thailand personally for these beaches.
2. Koh Larn - excursion destination off Pattaya's coast
We have almost given up on finding a beach where we can swim in the sea in Pattaya. But then we made a day trip to Koh Larn. Unfortunately, the weather wasn't quite cooperative and it was very cloudy.
Nevertheless, the beaches on Koh Larn were very beautiful, some even white. Only often a bit (almost) crowded and that even in the off-season. But we could finally go swimming.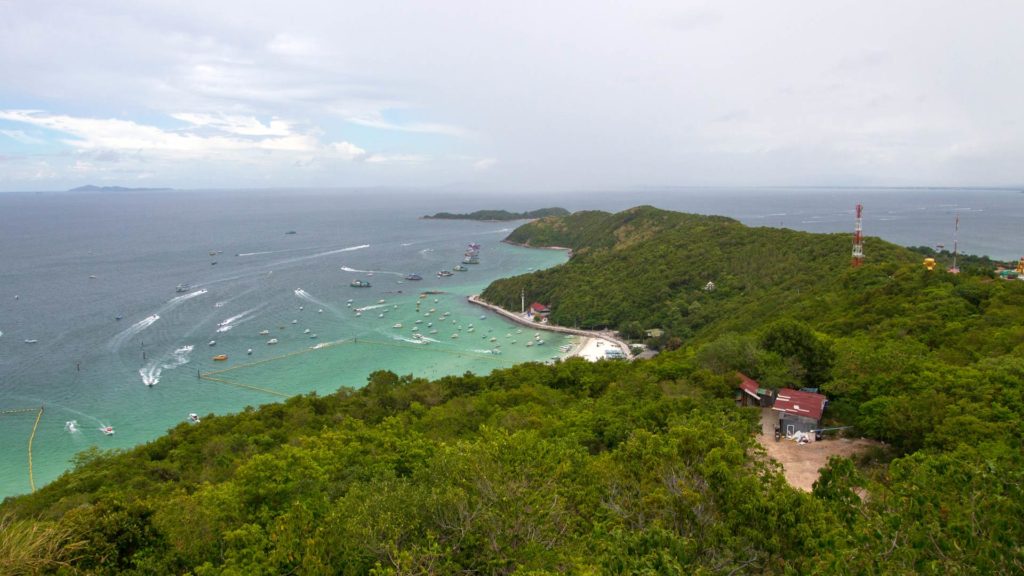 We can absolutely recommend the island as a day trip destination and when you are there you should rent a scooter and explore the beaches, the viewpoints and the rest of the island. A great change from city life in Pattaya.
What you can see there, how to get to Koh Larn and which beaches you should visit, Armin recorded in his Koh Larn guest article on our blog.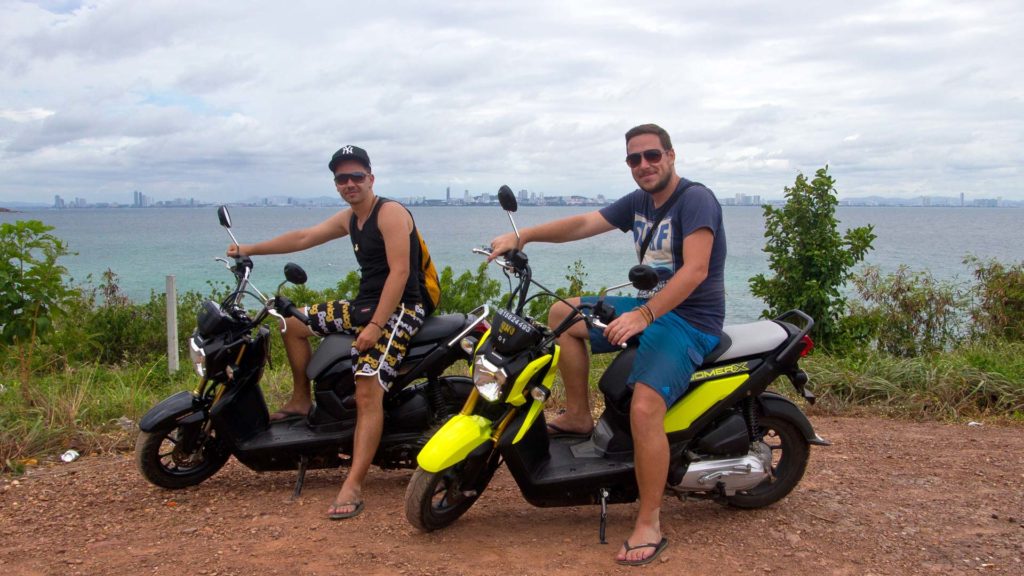 3. Attractions in Pattaya
Not exactly common in Thailand, but we explored large parts of Pattaya on foot to get a good impression of the city. After a little research on the net, we found some attractions in Pattaya that we wanted to see.
The first tour went to Sanctuary of Truth in the Naklua district. Despite the really high entry price of 500 baht, we looked at the largest teak house in Asia. It is built in the style of a temple and the many wooden figures are simply impressive. That almost lets the admission price be forgotten a bit. Definitely recommendable!
The Sanctuary of Truth is a little further from central Pattaya and you will need a lot of walking time to get there. We rented a songthaew (shared taxi) for about 150 baht and drove there.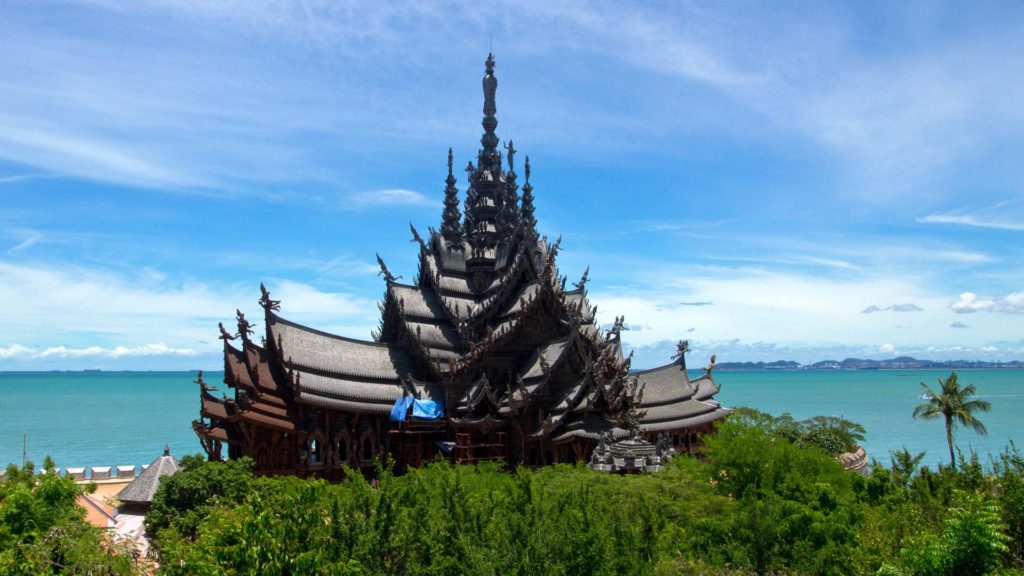 Back at Pattaya Beach we walked for quite a while Pattaya Viewpoint Gone with the famous "Pattaya City" sign. It doesn't look like it at all, but it's a long way to go on foot. But the view of Pattaya Bay is really nice and rewards the ascent to Viewpoint.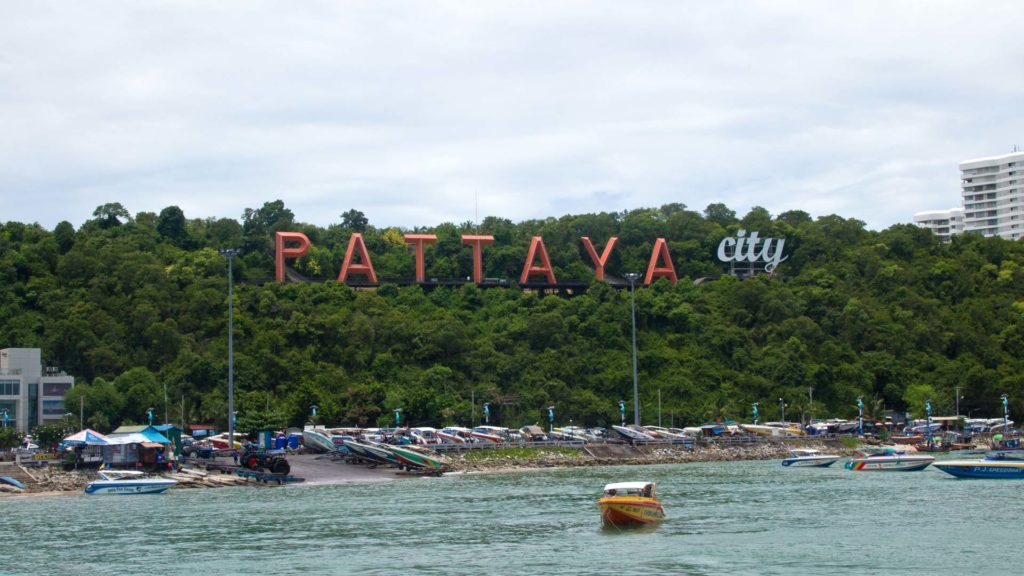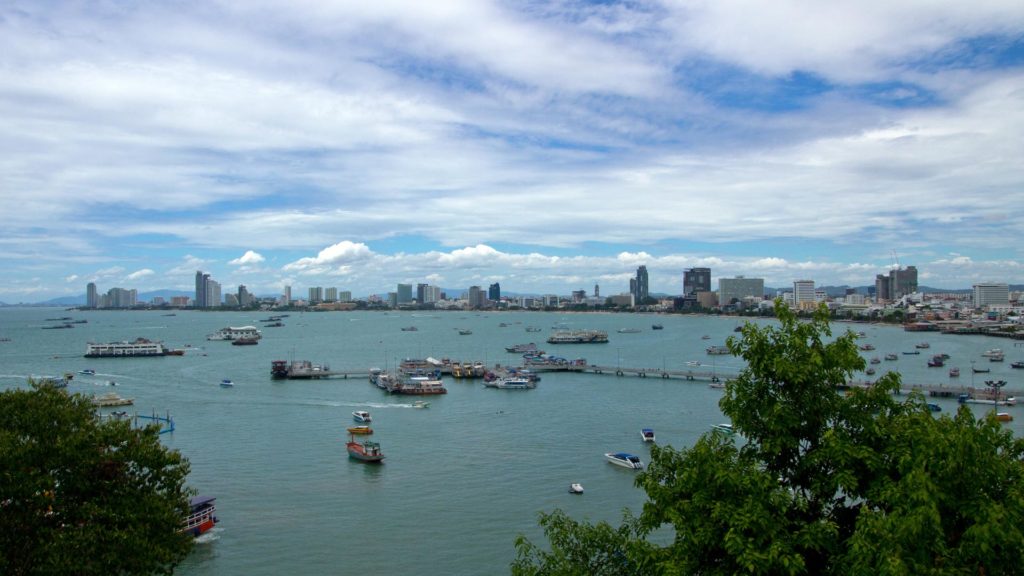 From here it is also not far to the Big Buddha from Pattaya which was the next stop on our tour. A beautiful temple on the top of the mountain with a view of the skyscrapers from Jomtien and the sea. Here, too, I can only recommend a visit. You don't have to pay entrance fee.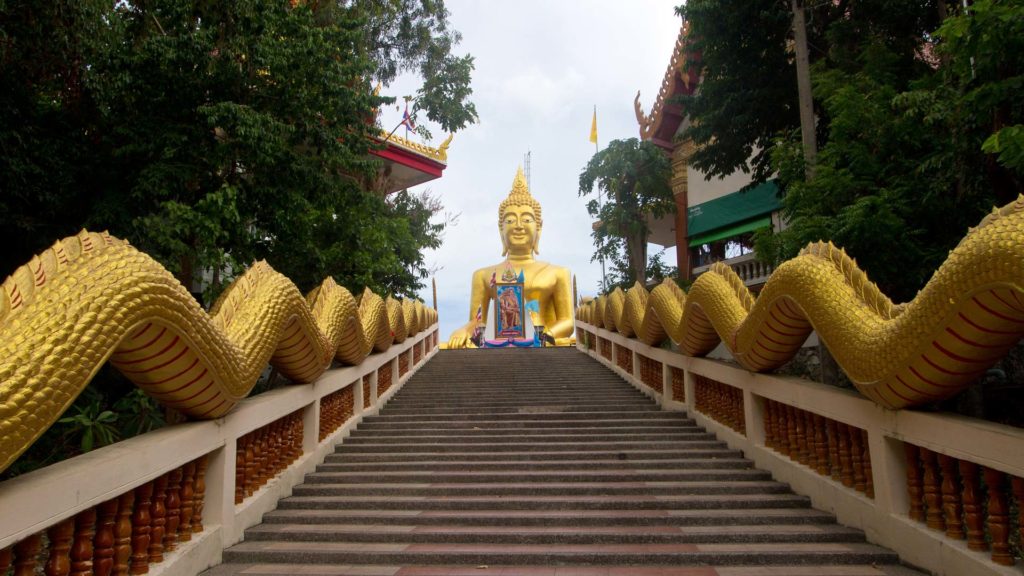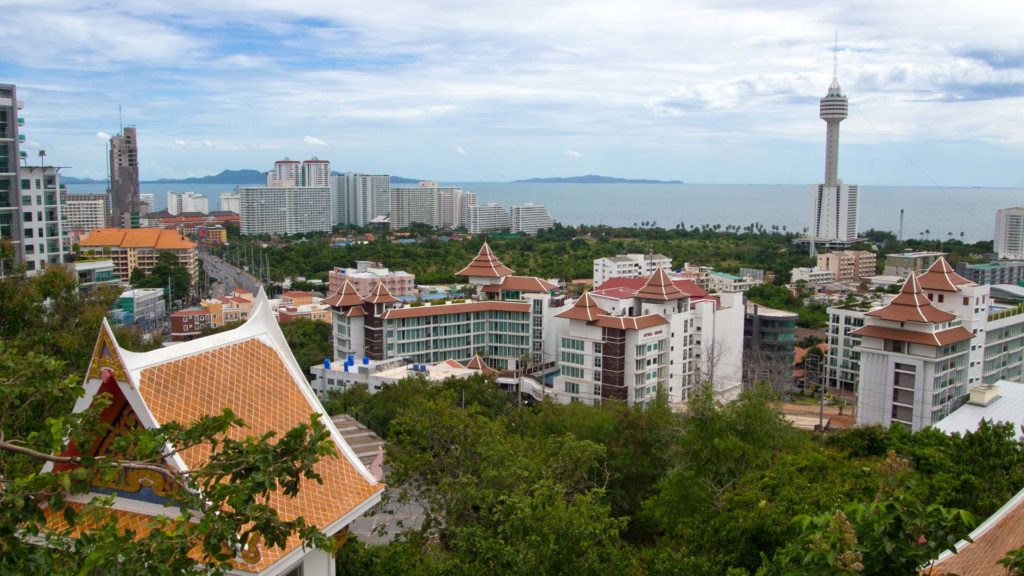 The last attraction in Pattaya (or a bit outside) that we visited was that Khao Chi Chan, also as Buddha Mountain known. The 109 meter high Buddha was carved into the rock in honor of the 50th anniversary of King Bhumibol's accession to the throne. Really impressive and a great destination.
The best way to come here is with a songthaew from Pattaya that you can rent. We paid 600 baht for the round trip. After all, it's 30 kilometers in one direction. It is of course cheaper on your own with a scooter. By the way, entry here is also completely free.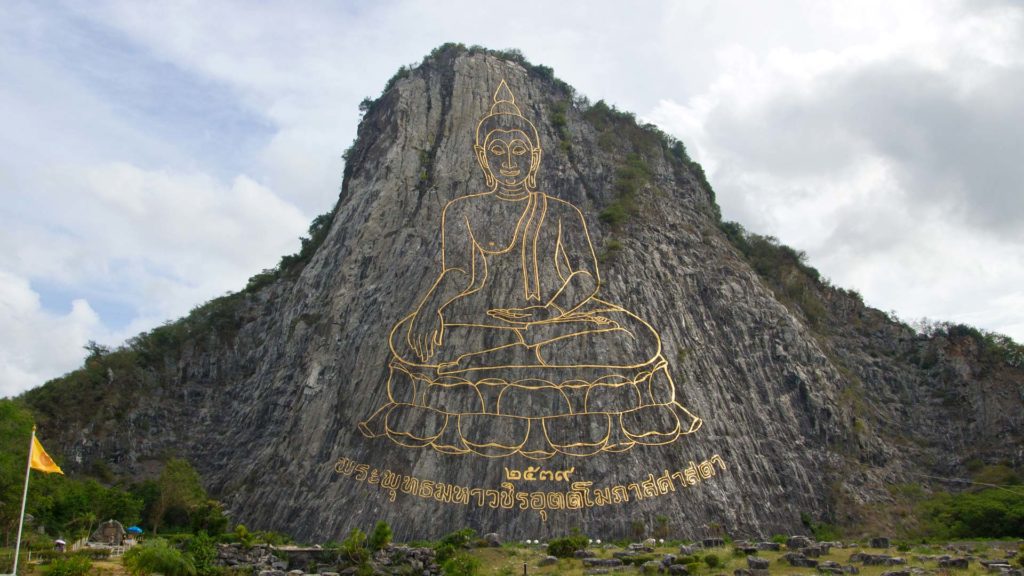 We didn't see much more of the sights in Pattaya, but if you are planning a longer stay there are many more, such as Mini Siam, the Pattaya Floating Market or the ride on the Jomtien Lookout Tower. You won't get bored here. You can find more places with us in the article 8 things you can do in Pattaya.
4. The nightlife in Pattaya
Pattaya is famous and infamous for its nightlife. The nightlife mainly takes place in AGoGo bars, beer bars or discos. Sex tourism is omnipresent here and cannot be overlooked.
We found Bangla Road on Phuket to be too much geared towards it. But Pattaya is even a notch harder! There is not only the famous one here Walking street, which focuses on it night after night, but also many streets and sois more.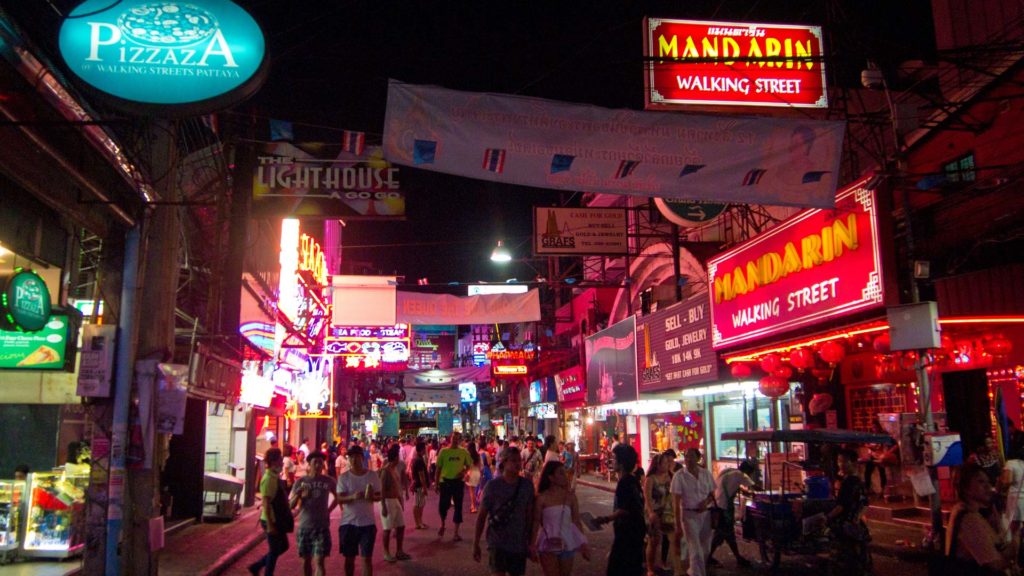 If you walk down Beach Road, Second Road or Soi Buakhao, you will see a lot of these establishments. It feels like there are more bars in every intermediate street and we can't count how many "red light districts" there are in the city.
If you like it ok, but a little too much for our taste. But there are also bars without ladies, where you can just go for a beer. But the ladies in the bars will also leave you alone if you point them out in a friendly manner.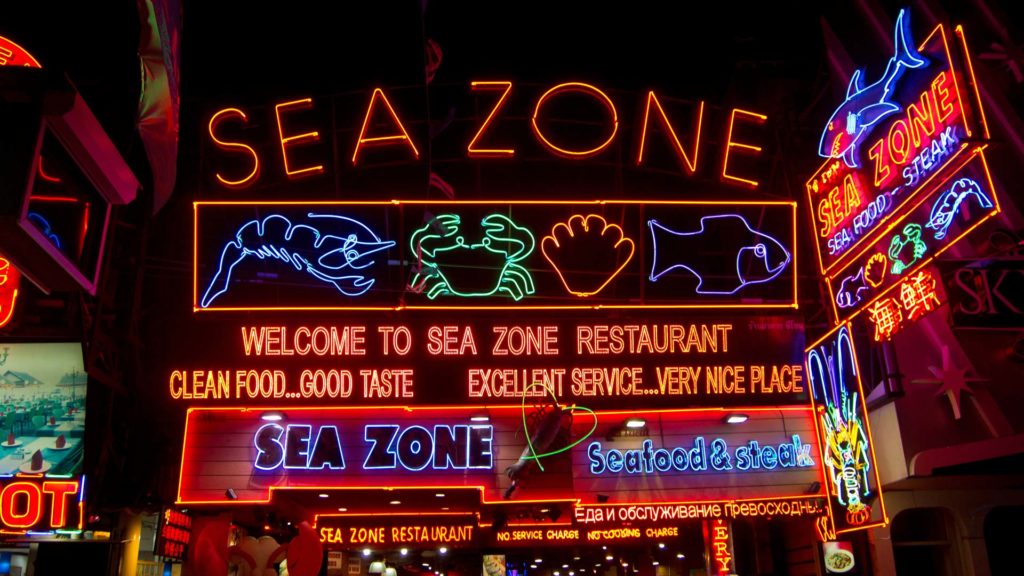 Conclusion
Apart from a few negative aspects, we had a great stay in Pattaya - despite all expectations - and the city was not half as bad as we had imagined.
You can do a lot here. There are great markets, excursion destinations and that Price level in Pattaya is also much lower than we imagined. Eating cheaply for 40-60 baht per dish is no problem at all in Pattaya.
The only big ones Minus pointsWhat we have to give the city are the beaches, which we find extreme mass tourism, which during our stay came mainly from Chinese tourists, and the endless bars aimed at sex tourism. Yes, it is found in almost all of Thailand. But if it were limited to a few streets less here, we think it would be a lot better.
If you are really interested in the nightlife or at least can turn a blind eye to it, then it is possible to make a stay in Pattaya really nice. It will certainly not be our favorite place in Thailand, but we are no longer so negative about it.
If you don't want to see sex tourism and a different side of Pattaya, then that is possible without any problems. Nevertheless, we would not recommend Pattaya to families with children. There are much nicer places in Thailand.
How do you like our Pattaya travel report? Do you think the city is as bad as its reputation? Or did you have positive experiences? Tell us in the comments.
Did you like this article and did you find it helpful? Sign up here to receive our best travel tips straight to your inbox on a regular basis!
We guard your data like our passports! We only use your email to send you the latest information about Home is where your Bag is. Free of charge, of course! You can unsubscribe at any time. Data protection
You might like it too
Tobi
Hi, I'm Tobi, a freelancer in the field of translations and copywriting, but above all a passionate travel blogger. I prefer to be in Southeast Asia and work online from all kinds of places. If you want to know what I'm doing or where I am, then it's best to follow me on Twitter, Instagram or check out Facebook.
This article contains Advertising and Affiliate Links. Through the affiliate links we receive a small commission with which we can finance this blog and publish content for you free of charge. There are no disadvantages or extra costs for you.
16 comments
Pattaya is not Thailand. Pattaya is Pattaya.
A city for single men.
reply
The first sentence can be left as it is, Pattaya doesn't have much to do with the real Thailand away from the tourist routes.
However, I wouldn't say that Pattaya is ONLY for single men. It's not like the whole city consists of lady bars and red light districts. 😉 There are quite a few places and sights to discover in Pattaya and the surrounding area, even if beach fans are more likely to be disappointed. I would probably not visit Pattaya a second time myself, but it was actually not as bad as we would have expected before the trip.
Best wishes
Marcel
reply
There are very nice beaches there. NaJomtien and on towards Sattahip.
reply
Hi Markus,
Na Jomtien may be a little nicer than the main beaches. However, due to lack of time, we did not visit this again.
Best wishes
Marcel
reply
Good Morning,
came across your site by accident. As a sinful sex tourist (I'm not a fat pensioner. Under 30 and under 90 kg) I am always interested in what "normal" tourists (why am I actually not normal?) Write about Pattaya. On the subject of red light, I would like to point out the following: https://der-farang.com/de/pages/polizei-findet-in-der-walking-street-keine-prostitution as read here, there is in Walking Street no signs of prostitution * cough *
Joking aside: I can absolutely confirm what you write about the beaches. So far I've been there 3 times and haven't even touched the water, not even the sand.
1. Because the water is supposed to be disgusting
2. Garbage everywhere
3. Like most Pattaya vacationers, I don't go there for the beach.
I wanted to watch the Sancutary of Truth this time, but 500 Baht ?! For a Thai it's definitely free again ...
So I agreed with the other commentators. Pattaya is absolutely unsuitable for a family vacation. Then it is better to go somewhere else, where there are also beautiful strands and there is no concentration of prostitutes of 50 / m².
greetings
klausberbel
reply
Hall oils
I spend 3-4 weeks in pattaya every year, wallowing in red light and having fun doing it ????
But there is also so much else to be able to spend a pleasant time there.
A great city for me
Kind regards from pattaya
reply
Pattaya is hell and paradise rolled into one. Unique place.
I'm a fan for a variety of reasons.
reply
It is quite true that there are slightly more bars in Pattaya than anywhere else in Thailand. However, it must also be said that the bar scene has fallen sharply in recent years. It will never go away completely, and that's a good thing. Live cheap, an exciting nightlife, but also beautiful sights, if you like it all and can do without a dream beach, you will love Pattaya.
For us Pattaya is simply a city that has something to offer from everyone. Shopping, nightlife, sights, islands and much more. There is simply no second time in this form in Thailand.
reply
A little tip for a real paradise is the island of Koh Khram. Here you will find a great beach and an extremely chilled island.
LG Armin
reply
I was in Pattaya once ... Well the beaches are really terrible (apart from Ko Lan). The night life also shocked me a little, but nothing that you couldn't avoid ... What I really remembered as very positive were the extremely low prices and the super delicious food!
I had a super double room for just 8 euros with a balcony! There is nothing like that on Phuket 🙂 And the variety of food is enormous ... From Indian to Russian to Ethiopian ... in Pattaya there is everything ... but no place that calls for repetition. There are better places!
reply
Hi Kevin,
We would never have thought that either! Surprised us positively. You can eat super cheap in many corners, especially Thai / Isaan cuisine. But western food was also ok.
Best wishes
Marcel
reply
Pattaya is not just about nightlife, but the red-colored nightlife is what made Pattaya unique and world-famous. Without this enjoyable and erotic nightlife, Pattaya would disappear into a tourist no-man's-land and just be an interchangeable tourist destination for thousands of others on the planet the degeneration process of the "old slut" Pattaya that can be overlooked, the hedonistic level is still so high that "Sin City" imo can still be counted among the top ten most extraordinary cities worldwide.
reply