Is social media marketing part of SEO
Social SEO: definition, impact and functionality
The growing importance of social SEO is mostly underpinned by correlation studies such as those by SEOMoz and Searchmetrics. These studies show a strong correlation between ranking success and "social signals". The social signals include shares and likes on social media platforms that can be assigned to a website.
Positive SEO effects from social media activities
The generation of social signals is by no means the only way that social media activities can influence the search engine rankings of a website. A distinction can be made between the following options:
Direct effects of the social media presence: The best example are the author pictures in the search results, which require a link to Google+ author profiles. In addition, there are, for example, backlinks in profiles.
Generate social signals through social media activities: Social media activities can generate social signals such as likes and shares, which can have an impact on the ranking. More on this below.
Indirect backlink building through social media activities: Traditional backlinks are still much more important than social signals. But these can also arise indirectly through social media activities. Because if content is spread virally via social media platforms, and bloggers and website operators are also reached, backlinks to the content can arise.
However, some direct effects such as author profiles are not necessarily "social SEO", but fall under other areas such as snippet optimization.
A possible definition would therefore be: Social SEO encompasses all activities that aim to create search engine-effective "recommendations" (links, likes, shares) via social media platforms - usually through social interaction or the provision of content that is worth sharing. Social SEO is therefore to be assigned to the backlink structure or the recommendation structure within the SEO areas.
In addition, social media presences can of course be optimized in such a way that they themselves rank for certain keywords (e.g. for your own brand in order to achieve ranking dominance). However, this is more like social media site SEO than social SEO.
The interaction of social SEO with other areas
A common misconception is that social SEO is a separate discipline within the SEO field. In fact, social SEO requires the interdisciplinary interaction of different areas of online marketing.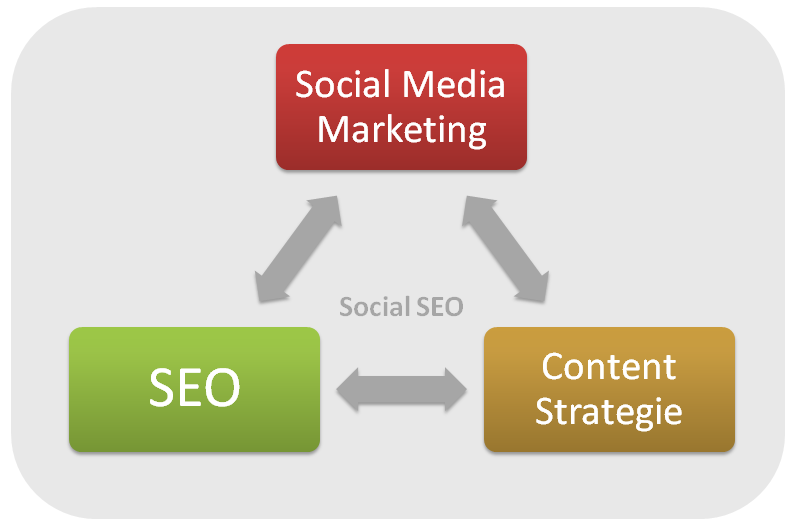 Social SEO - an interplay of SEO, social media marketing and content strategy
In order to generate social signals or, indirectly, backlinks to a relevant extent, as many social media users as possible have to be reached, who can distribute the content or rate it positively if necessary.
Successful social SEO can therefore only be based on a successful social media strategy. Building a network of positive, interacting and ideally influential users is an essential task of social media marketing. Simply publishing content for SEO purposes via social media channels without the appropriate followers will not lead to the desired success.
In order to generate recommendations via social media platforms, the content does not necessarily have to be distributed socially by the website operator himself. The provision of content that is worth sharing and that readers disseminate or evaluate positively is also part of the social SEO strategy.
Both successful SEO and successful social media distribution depend on a suitable content strategy. Due to the content strategy, outstanding content must be available that also enables good rankings in a relevant topic area, is suitable for social dissemination and encourages subscribing to the published content, e.g. via social media.
Effects of social signals may be overestimated
Despite the clear results of the correlation studies, the direct positive influence of social signals on the ranking should not be overestimated. Even Matt Cutts recently relativized the importance of social signals.
Google's problem is the lack of access to meaningful data - in many cases, Google cannot or does not want to use the social media data:
Google+: Google has full access to Google+ data. Nevertheless, according to Google, this data is not (yet) used as a ranking factor because the existing data volumes are not yet meaningful enough.
Facebook: Facebook has the largest amount of data. But despite negotiations with Facebook, Google was unable to conclude a cooperation agreement that would give them access to all the necessary data. Therefore, only the public areas of Facebook can be evaluated, which corresponds to only a small part of the available data. For example, Google can see on Facebook Pages that there are a certain number of fans. But without access to the user profiles, Google cannot judge how trustworthy and influential the individual fans are.
Twitter: Twitter is likely to play the biggest role in Google's algorithms. It is known that tweets are given special consideration in Google News and QDF rankings. Although Twitter profiles are publicly available, Google has not extended a cooperation agreement with Twitter. Google is therefore dependent on Twitter's discretion as to which data it will still have access to in the future. These are also not good prerequisites for an important ranking factor.
Google is also facing similar problems with other social media platforms such as Pinterest or LinkedIn. Either there is no access to the data or the available data is not yet meaningful enough.
The influence of social signals on the ranking is therefore probably less than is often assumed or suggested by correlation studies (where there is often a higher correlation between ranking success and social signals than between ranking success and backlinks). However, it has already been confirmed that social signals are used at least in some situations. In addition, the influence of social signals will certainly increase in the next few years.
Regardless of how strong the ranking influence of the social signals is today - a sensible social media (SEO) strategy should be created and implemented now. Firstly because of the importance of social media for the natural backlink building, which has been necessary for long-term success since the Penguin update at the latest. And secondly, because the necessary follower base cannot be built up in the short term if social signals acquire a significance similar to backlinks.