What is a learning platform?
With a learning platform, you can make learning content and processes available to users and organize them efficiently. In addition to the creation and management of learning content, user data and web-based learning offers, there is also the possibility of assessing the learners. In addition, communication between the teacher and the learner is made possible without the need for an additional application.
A Learning Management System (LMS for short) also ensures that the learning content is made available to the right person at the right time. This considerably simplifies the provision and monitoring of learning content to be carried out. The so-called tracking also enables the learning results to be evaluated quickly and easily.
Would you like to see an example?
Here you can take a look at our learning platform for free.
For a non-binding insight into one of our e-learning courses directly on our learning platform, click here.
Who needs an LMS?
Learning management systems are indispensable for everyone who wants to provide learning material or trainings independent of time and place. Nowadays, companies in particular can no longer avoid an online learning environment if they want to ensure that the skills and competencies of their employees are continuously safeguarded. This also ensures an inexpensive and simple method for monitoring corresponding results. In addition, a learning platform enables international companies to have a simple overview and exchange with employees and colleagues around the world.
---

---
What are the advantages?
Apart from the advantages already mentioned, such as the simplified provision, monitoring and evaluation of learning content, an LMS offers you numerous other advantages. We have summarized the most important advantages for you below:
Location-independent learning as well as simple control of the time components
Possibility of location and / or time-independent communication between teacher and learner
Easy administration of the learning content
Creation of your own learning content is quick and easy
Tracking and evaluation of the results of the learners
Ability to control the flow of information by defining who and when which content is made available
Establishment of flexible, individually tailored learning paths
Automated processes
Individual design of the LMS
Access possible via all mobile devices
However, these are only a few of the many advantages that a learning platform has in store for you. With the help of the numerous systems available free of charge (e.g. Moodle), you can also quickly and easily get an idea for yourself.
Which functions are available?
The functions that an LMS provides depend on the selected product. You should therefore make the selection dependent on your individual requirements for the platform. In general, it can be said that the functions of a learning management system are very extensive and can usually be easily adapted to the needs of the user.
However, a learning platform should have certain core functions, regardless of additional, individual functions. Nowadays these are part of every future-oriented learning management system. We list these core functions for you below:
User administration (encrypted login)
Course management (management of content and files)
Provision of various learning content (text, video and audio files, but also interactive lessons e.g. via SCORM)
Allocation of roles and rights
Opportunity to communicate (chat, forums)
Various tools for learning (creating notes, calendar function, etc.)
Saving of the learning status and progress display
Adaptation of the design
Creation of learning content (including learning control) in the LMS
Integration of existing systems (databases, personnel management, etc.)
Automation of various processes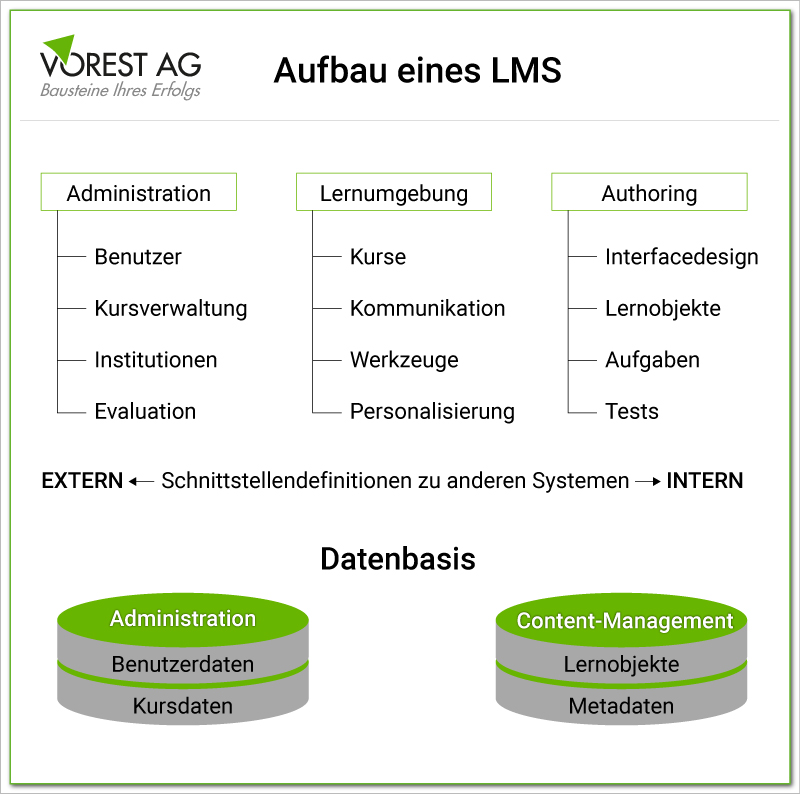 ---
---
In addition, an LMS should help ensure that the learner feels comfortable and that the learning content can be designed in an interesting and appealing manner. This is the only way to enable efficient and sustainable learning. It should not only be easy to access the platform. The structure and design of the surface also play a major role.
In addition to the experience for the learner, the view of the administrators and tutors also plays a role. The learning platform should also be clearly structured for this page in order to enable quick provision and / or creation of content.
---
More interesting knowledge articles on the subject of quality management can be found here: Expertise on the subject of quality management.
---
---
Our service offers in the area of ​​quality management ISO 9001