Where does waste from controlled demolition go?
Building demolition

Central statement
The volume of building rubble in Bavaria in 2012 was around 9 million t (equal to 715 kg / inh. A), measured against the total municipal waste volume of around 6.5 million t (equal to 521 kg / in. A). This shows how urgent efforts would be to avoid waste, i.e. to reduce quantities, energy and emissions, even with building rubble.
All those involved should check in good time whether buildings cannot be preserved to a greater extent than before through conversion, possibly after general renovation, for environmental reasons, possibly with partial inclusion in replacement buildings. Used components could be passed on. This requires the establishment of component exchanges in the municipalities. The latter and the aforementioned test would be important points in a municipal waste prevention concept.
Before the dismantling of buildings with building fabric that cannot be ruled out, suspected or obvious, a dismantling and disposal concept (with sampling and analysis) is recommended, considered to be urgently necessary in the case of higher pollution. The dismantling should then be carried out in a controlled and selective manner for the separation and disposal of pollutants in order to be able to preserve what is still worth preserving (for component exchanges) and to enable high-quality recycling of the remaining building fabric.
Other terms / synonyms
Selective dismantling / demolition, building renovation, preservation of buildings, (building) contaminated sites, industrial wasteland
origin
It is primarily about buildings of commercial, industrial and military properties, but also about administrative buildings. In addition, residential buildings can prove to be worth preserving and contain harmful building materials typical for their construction period, in particular asbestos and artificial mineral fibers.
properties
Building materials each have specific properties that can only be used again with high quality if they are selectively and therefore dismantled according to type. As a mixed material, mineral building materials recorded together can often not be separated from one another again with justifiable effort. They can often only be used for backfilling or in less demanding technical earthworks, such as supports for laying cables, noise barriers, etc.
Due to their different chemical and physical properties, building materials can also act as interfering substances, such as gypsum with its sulphate potential or hollow-wall bricks, which are inseparably provided with a thermal insulation filling or to which polystyrene insulation boards are attached with a very solid cement adhesive that can hardly be separated later during disposal were. For the consideration of the effects on humans and the environment, the entire life cycle of a product must be taken as a basis according to Section 6 (2) KrWG. In the case of disposal, this includes the most effective material flow and recycling management possible.
Many of the building materials used previously have in the meantime turned out to be pollutants themselves or at least contain pollutants. The structure of the building can be subject to very different loads, due to the manufacturing process or added subsequently, as a result of a special use of the building or inadequate building maintenance, e.g. B. with the consequence of moisture and salt pollution in the building fabric. Dangerous pollutants are mainly asbestos, artificial mineral fibers (KMF) without RAL quality mark or KMF bought before June 1st, 2000, wood preservatives such as pentachlorophenol (PCP), polychlorinated biphenyls (PCB in sealing compounds) or polycyclic aromatic hydrocarbons (PAH) as well as through commercial use also conditionally heavy metal contamination (for further pollutants see "pollutant guide for building dismantling").
Statistical data
According to the Bavarian State Office for Statistics and Data Processing (LfStaD 2014), around 9.0 million tonnes of construction rubble were disposed of in 2012: around 8.2 million tonnes of this were recycled and 0.8 million tonnes were disposed of. Around 5.5 million t were processed in building rubble recycling plants (61%) for recovery, 2.3 million t were backfilled in pits, quarries and open-cast mines and 0.4 million t in construction and recultivation measures, for example in landfills, used (additional 30%).
In 2013, the Central Office for Waste Monitoring (ZSA) at the Bavarian State Office for the Environment (LfU) registered 434,000 t of construction and demolition waste (including the excavation of contaminated sites) as primarily incurred in Bavaria (LfU 2014). This corresponds to around 40% of all hazardous waste and around 1% of the total amount of construction waste determined by the LfStaD of 45.6 million t in Bavaria.
Avoidance
According to the Recycling Management Act (KrWG), avoidance is any measure that serves to reduce the amount of waste, the harmful effects of the waste on people and the environment or the content of harmful substances in materials (§§ 3, Paragraph 20 and 6, Paragraph 2, Clause 3 Item 4 KrWG).
According to § 6 KrWG, avoidance before preparation for reuse before recycling before other recovery before disposal applies. Before a conceivable demolition of a building (consideration of preservation or dismantling), the following must first and foremost be considered:
the expected emissions,
the degree of conservation of natural resources,
the energy to be used or obtained as well as
the accumulation of pollutants in products, in waste for recycling or in products obtained from them.
Waste from demolition can be reduced and thus avoided as waste if buildings are refurbished and renovated - possibly after removing pollutants - because the existing buildings represent a historical, sociocultural and economic value in many ways and can continue to be used. Buildings can, for example, be included in the replacement planning by maintaining a gutted building, a facade or the reinforced concrete skeleton (LfU 2013). If this is not possible due to renovation work that is no longer justifiable, inadequate subsequent use or the need to build more compact buildings, etc., well-preserved components can be recovered with selective dismantling. This includes beams and building blocks, roof tiles, bricks, windows, tiles, grilles, sanitary basins, stairs, stepping stones, doors and fences. They would have to be re-used or re-used via component exchanges that have yet to be set up or through direct brokerage that can only be managed in individual cases. Under certain circumstances, this will run as a recovery measure in preparation for reuse in accordance with Section 3, Paragraph 24 of the KrWG.
Avoidance here means saving primary resources, energy and emissions, increasing resource efficiency and reducing costs. This includes greenhouse gas emissions, which are released in considerable quantities during the production of clinker and quicklime as the intermediate products for cement, mortar and plaster.
If you receive a building, you also receive its gray energy, i.e. the energy used in the manufacture of its building materials and in its construction, and acknowledges the emissions released at the time. If this does not succeed, more energy is required and emissions are released. The longer a building can be used sensibly (extension of the service life through reuse or further use; Section 3 (20) and Section 6 (2) KrWG), the better for economy and ecology. Like other capital goods, buildings are then depreciated over a certain period of use. In addition, they bring returns to the environment.
Furthermore, the spread of pollutants and contaminants in the demolition materials is to be avoided as far as possible. This is mainly possible through selective dismantling. Fractions that are small in terms of quantity, but possibly dangerously contaminated, can then be disposed of. In this way, disposal costs can be saved to a considerable extent and, under certain circumstances, severe penalties for unlawful disposal in unsuitable disposal facilities can be avoided.
Recovery
The recycling - here of construction waste - must take place without damage. It is harmless if, depending on the nature of the waste, the extent of the contamination and the type of recycling, no adverse effects on people or the environment are to be expected and there is no accumulation of pollutants (or contaminants) in the recycling cycle (see Section 7 (3) KrWG).
The recycling of construction waste that is no longer polluted is standard not only in Bavaria. However, recycling or RC building materials - apart from their use in state, municipal, commercial and private road, path and traffic area construction - are still far too often only used in other earthworks. They are used there to backfill pits, quarries and open-cast mines or for landfill construction measures. The reason for this is that often undifferentiated building demolitions only allow mineral mixed material to be extracted to a limited extent. However, the best possible high-quality recycling that guarantees the protection of people and the environment should be aimed for (Section 8, Paragraph 1, Clause 3 of the KrWG). According to BMVBS (2011) and ifeu (2010), high-quality recycling is when the selectively dismantled building material can be used again in the same product cycle.
According to the Bavarian Waste Management Plan, the public sector is required to first take over their buildings as role models with regard to avoidance and recycling. As the largest public developer in Germany, the federal government has already had specific quality requirements drawn up for the construction of new federal buildings and existing construction measures in accordance with its role model function for sustainable building (see BMVBS 2013, 2011, 2008).
Concrete quality requirements and good role models can then influence commercial renovation and new building plans directly (also via municipal building supervisory authorities) and indirectly (via committee work). When it comes to awarding contracts and invitations to tender, traditional, tried-and-tested building materials are still often used instead of substitute building materials - publicly as well as commercially.
However, there are planning offices who, in consultation with the client, include the use of RC concrete as a requirement in the tender. For example, in the case mentioned in footnote 14, RC concrete must be used for at least 50% of the components that can be manufactured from RC concrete, unless the distance from the RC concrete plant to the construction site is greater than 25 km. In another case, a building was constructed in Ludwigshafen in 2009 as part of a pilot project (ifeu 2010) in which all ceilings and most of the walls were made of RC concrete. The project was supported by the BTU Brandenburg Technical University in terms of engineering.
Whole bricks can even be recovered as components in preparation for reuse (Pacello 2014). Pure, low-pollutant brick material (broken, chippings, flour, etc.) can be used in many ways or processed into recycling products (see also the corresponding patent).
While mineral low-pollutant or, better, pollutant-free, because high-quality building rubble fractions and various metal components are suitable for material recycling, the situation is more complicated with waste wood. According to infoBlatt Altholz (LfU 2012), according to a nationwide estimate, 70% of waste wood is found in construction waste in waste wood category A II and 30% in A IV in power plants according to the 17th ordinance for the implementation of the Federal Immission Control Act (17th BImSchV).
There is a comprehensive collection and recycling system for PVC windows in Germany. The used PVC profiles can be processed several times into new frames.
Disposal of normal household quantities
Small amounts of construction waste (up to one m3) can generally be disposed of in construction waste containers at the recycling centers, provided they are not contaminated. The municipal waste advice service provides information.
Disposal of larger or commercial quantities
When planning the renovation or demolition of buildings, it is important to pay attention to the period from which they originate. In this way, typical pollutants or building materials containing pollutants can be assigned for the time, which can be searched for in a targeted manner. However, buildings can also have been contaminated through their use. If the knowledge is appropriate, a technical investigation with sampling would have to be carried out. Furthermore, a dismantling and disposal concept is recommended. Pollutants or building materials containing pollutants must be removed before the renovation or demolition (see demolition - no problem? / LfU 2003, Pollutant Advisor / LfU 2004 and Work Aid Controlled Dismantling / LfU & LGA 2003; the pollutant guide is currently being revised) . Because of the high sulphate content, this also includes plasterboard as a disruptive substance.
Waste wood can be hazardous and non-hazardous waste. The information sheet on waste wood provides information on allocation to the waste wood categories, amounts of waste wood from the construction sector and disposal. Further information sheets from the LfU's circular economy series provide information on asbestos in waste and artificial mineral fibers as well as fire rubble.
Brief legal information
Land with disused facilities and other land on which environmentally hazardous substances have been handled are contaminated sites within the meaning of the Federal Soil Protection Act (BBodSchG). Only when buildings are dismantled or demolished are waste or secondary resources created that are subject to the regulations of the Recycling Management Act (KrWG).
The Commercial Waste Ordinance applies to the recovery and disposal of commercially generated construction and demolition waste. In connection with hazardous waste, evidence must be provided to the Central Office for Waste Monitoring (ZSA) in the LfU in accordance with the Evidence Ordinance (disposal evidence and accompanying notes). The notification and permit regulations (AbfAEV) must be observed for the commercial transport of waste. The respective district administrative authority (district office or environmental office of the independent city) is responsible for issuing a transport permit.
When classifying fractions from the rubble as hazardous waste the Waste Catalog Ordinance (AVV) must also be observed in conjunction with the "Instructions from the BMU on the application of the AVV".
The AVV will shortly be amended by the first ordinance amending the Waste Catalog Ordinance. On August 12, 2015, the Federal Cabinet passed the ordinance to implement the amended waste law hazard criteria (amendment of the AVV and the DepV to adapt to the new EU chemicals law). On September 25, 2015, the Federal Council approved the ordinance in plenary. The announcement in the Federal Law Gazette remains to be seen. When the amended AVV comes into force, the above-mentioned information is to be withdrawn by being published in the Federal Gazette.
In Bavaria, the demolition of free-standing buildings of building classes 1 (e.g. free-standing buildings with a height of up to 7 m and no more than two usage units of no more than 400 m² in total) and 3 (other buildings with a height of up to 7 m ) procedure-free (for details, see Part 1, Art. 2 Para. 3 Bavarian Building Regulations - BayBO). All other demolition projects are notifiable according to Art. 57 Paragraph 5 Clause 2 BayBO.
Possible AVV waste codes
All waste codes from AVV chapter 17 construction and demolition waste (including excavation at contaminated sites)
Rules and regulations
Federal regulations:
Law for the Promotion of the Circular Economy and Ensuring the Environmentally Sound Management of Waste (Circular Economy Act - KrWG) of February 24, 2012 (Federal Law Gazette I p. 212), which has been amended by Section 44 Paragraph 4 of the Act of May 22, 2013 (Federal Law Gazette I p. 1324).
Regulation on the European Waste Catalog (Waste Catalog Ordinance - AVV) of December 10, 2001 (Federal Law Gazette I p. 3379), which was last amended by Article 5, Paragraph 22 of the Act of February 24, 2012 (Federal Law Gazette I, p. 212).
Notes on the application of the Waste Catalog Ordinance of December 10, 2001 (Federal Law Gazette I p. 3379), last amended by Article 2 of the Ordinance of July 24, 2002 (Federal Law Gazette I p. 2833, published in Federal Gazette 148a of August 9, 2005 ); Recommendation for use in Bavaria by letter from the Bavarian State Ministry for the Environment, Health and Consumer Protection (StMUGV) dated November 4, 2005, Az. 81-U8740.50-2005 / 2-1.
(See the "Legal Brief Information") Ordinance on the verification of the disposal of waste (Evidence Ordinance –NachwV) of October 20, 2006 (Federal Law Gazette I p. 2298), which has been amended by Article 97 of the Ordinance of August 31, 2015 (Federal Law Gazette I p. 1474).
Ordinance on waste management companies (Waste Management Company Ordinance - EfbV) of September 10, 1996 (Federal Law Gazette I p. 1421), which has been amended by Article 2 of the Ordinance of December 5, 2013 (Federal Law Gazette I p. 4043).
Ordinance on the disposal of commercial municipal waste and of certain construction and demolition waste (Commercial Waste Ordinance - GewAbfV) of June 19, 2002 (Federal Law Gazette I, p. 1938), which was last amended by Article 5, Paragraph 23 of the Act of February 24, 2012 (Federal Law Gazette I, p. 212).
Ordinance on the notification and authorization procedure for collectors, carriers, traders and brokers of waste (Notification and Permission Ordinance - AbfAEV) of December 5, 2013 (Federal Law Gazette I p. 4043)
Ordinance on requirements for the recovery and disposal of waste wood (Waste Wood Ordinance - Waste WoodV) of August 15, 2002 (Federal Law Gazette I, p. 3302), which was last amended by Article 5, Paragraph 26 of the Act of February 24, 2012 (Federal Law Gazette I, p. 212)
Ordinance on landfills and long-term storage (Landfill Ordinance - DepV) of April 27, 2009 (Federal Law Gazette I p. 900), which has been amended by Article 7 of the Ordinance of May 2, 2013 (Federal Law Gazette I p. 973)
Nationwide valid papers:
Implementation aid for the disposal of asbestos-containing waste from the Länder Working Group on Waste (LAGA), Communication 23 from September 2009, which was last updated in March 2012
Guideline for the procedure for physical, chemical and biological investigations in connection with the recovery / disposal of waste (LAGA PN 98) - Communication 32 of December 2001
Bavarian regulations:
Regulation on the Waste Management Plan Bavaria (AbfPV) of December 17, 2014 (GVBl p. 578); here in particular part III, chap. 1.2.6 "targeted dismantling"
Guide to requirements for the Use of recycled building materials in technical buildings dated June 15, 2005 with UMS dated December 9, 2005, Az: 84-U8754.2-2003 / 7-50
Guide to the key points paper Backfilling of pits, quarries and opencast mines dated June 21 / July 13, 2001, introduced with a letter from the StMLU dated November 6, 2002 for general observance in enforcement
Information sheet for the construction, operation and monitoring of landfills of the DK 0 - Inert waste dumps according to the Landfill Ordinance, Leaflet No. 3.6 / 3 of the Wasser Collection, as of July 25, 2007
Technical delivery conditions for minerals in road construction (Aggregates and stone in road construction) ", TL Min-StB 2000, introduced in Bavaria with IMBek from June 12, 2002
The legal provisions listed here or in the text can be found in the Information Center UmweltWirtschaft under Law / Execution or, if necessary, with an explanation in the Bavarian Waste Guide (e.g. on the KrWG).
Further reading, publications, information
On the selective dismantling or maintenance of buildings and the use of RC material:
UBA Federal Environment Agency (2013): Construction waste, 4 S ,. Dessau-Rosslau.
UBA Umweltbundesamt (Ed.) (2013): Optimization of the dismantling / dismantling of buildings for the recovery and processing of building materials with the removal of pollutants (especially sulphate) of the RC material.- Texts 05/2013: 227 S., Dessau-Roßlau.
DBU Deutsche Bundesstiftung Umwelt & VDI Center Resource Efficiency GmbH (2013): Reuse and Recycling.- In: DBU & VDI (Ed.): Bauen und Wohnen, Brochure: pp. 22-27, Osnabrück / Berlin.
Lottner, U. (2014): Avoiding waste through the preservation of buildings, parts of buildings or components. - 15th Bavarian Waste and Landfill Days at LfU: 14 p., Augsburg.
BMVBS Federal Ministry of Transport, Building and Urban Development (Ed.) (2013): Guideline for Sustainable Building - Guideline: 97 p., Berlin.
BMVBS (2011): Assessment System for Sustainable Building (BNB) - New construction of office and administration buildings - Profile 4.1.4, Berlin.
Ifeu Institute for Energy and Environmental Research Heidelberg GmbH (2010): High-quality recycling of building rubble as a supplement for concrete production - Documentation for the Ministry for the Environment, Nature Conservation and Transport Baden-Württemberg: 51 p., Heidelberg
Weiß, A. & Müller, A. (2010): Concrete from broken masonry - ABW Bauhaus-Universität Weimar, Symposium R`10: 23 p., Weimar.
Lottner, U. (2010): Environmentally friendly renovation and construction - Architecture and waste management - Poster of the LfU, Augsburg.
FZK Research Center Karlsruhe, Institute for Technology Assessment and System Analysis (Ed.) (2007): Data project cement in the network life cycle data - Project report by PE INTERNATIONAL GmbH on the research project FKZ 01 RN 0401 of the Federal Ministry of Education and Research: 45 p., Leinfelden-Echterdingen Karlsruhe .
cbm Center for Building Materials and Material Testing (Ed.) (2006): Sustainability Aspects in New and Existing Buildings - Guideline: 89 pp., Munich.
BayForrest Bavarian Research Association for Waste Research and Residual Material Utilization (2008): Analysis, evaluation and management of raw and building material flows in Bavaria - Completed project of the Bavarian State Ministry for the Environment, Health and Consumer Protection, Munich.
On selective dismantling / demolition with building fabric containing pollutants:
Zwiener, G. & Lange, F.-M. (2012): Building pollutants and healthy indoor air - Handbook: 863 S., Berlin (Erich Schmidt).
LfU Bavarian State Office for the Environment (2004): Pollutant Advisor - Building Deconstruction - Online Information System, Augsburg.
LfU (2003): Termination - no problem? What you should consider before dismantling the building - Flyer: 2 p., Augsburg.
LfU & LGA Landesgewerbeanstalt Bayern (2003): Contaminated building fabric - exploration, assessment, disposal - working aid for controlled dismantling: 104 p., Augsburg.
Zwiener, G. (1997): Building pollutants for architects, experts and authorities.- Handbook: 475 S., Cologne (Rudolf Müller).
Deutscher Abbruchverband e.V. (Ed.) (2004): Demolition work - basics, preparation, implementation - Volume: 454 p., Cologne (Rudolf Müller).
info sheets of the series circular economy on the topic:
LfU (2012): Altholz.- Waste guide Bavaria info sheet: 9 p., Augsburg.
LfU (2013): Asbestos in Waste - Waste Advice Bavaria info sheet: 5 p., Augsburg.
LfU (2015): Brandschutt.- Waste guide Bavaria info sheet: 8 p., Augsburg.
LfU (2015): artificial mineral fibers - waste advice Bavaria info sheet: 4 p., Augsburg
LfU (2015): Gypsum boards and more - Waste guide Bavaria info sheet: 5 p., Augsburg.
info sheet "Building dismantling"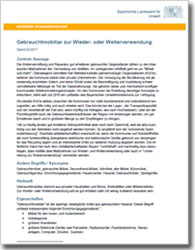 The publication series "infoBlatt" of the Bavarian State Office for the Environment gives valuable tips on the treatment of individual types of waste.
This website is an excerpt from the info sheet "???" which you can download here as a free PDF document. The PDF version also contains all sources.
info sheet "Building dismantling" - PDF