How can US citizens help refugees?
Migrants in the US: Escape to a Better Future?
The counter is long, but the bar stools have disappeared. Rum and tequila are also no longer available here. Instead, there are shampoos, diapers and soaps on the shelves - most of them donated by citizens who want to help the newcomers. Refugees are queuing at the old bar and waiting to be served. Helpers at the counter hand out the hygiene items to the families.
The Catholic organization "Catholic Charities" bought this club about two years ago. Until recently it was mainly used as a shelter for the homeless. A few of them are now sitting outside on a bench in front of the club. "We can no longer sleep there," complains one. "You can only get in if you are one of them, a refugee".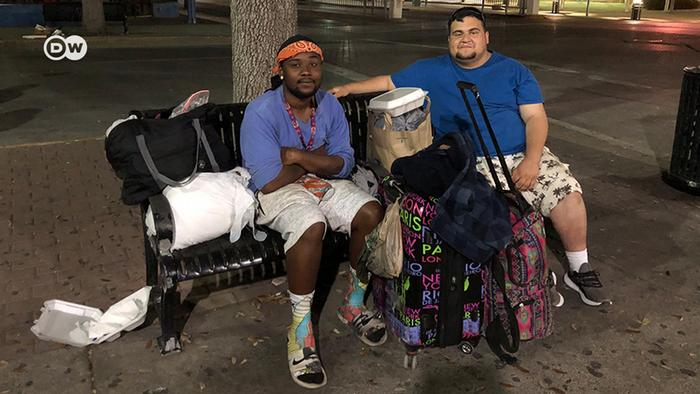 Two homeless people in front of the emergency shelter
Around 50 people currently live in the property. You have come a long way, from Mexico, Guatemala or Honduras, to find a life in peace in the USA. In their home countries there is often poverty and violence, crime and impunity.
Cooped up in the truck
"I paid the coyote $ 6,500 for this trip," says Michelle, who is lying on a thin mat with her baby on one of the three dance floors. "Coyote" - that's what they call the smugglers waiting for the refugees on the Mexican side. "I toiled in two jobs and saved up for a long time. My family put all their hopes in me. They motivated me to come to the USA with my four-month-old baby."
Michelle comes from Honduras and has covered 2,500 kilometers with her son - most of it on foot. Worst of all, however, was the moment when she and 40 other refugees were crammed into the back of a truck. It was way too tight, says Michelle. She had to leave her only piece of luggage, a small backpack, behind. She was one of the first to climb onto the loading area, after which everyone pushed and pushed. To protect her baby, she put his head between his chest and shoulder, and stood against the wall, with her back turned against the oppressive crowd.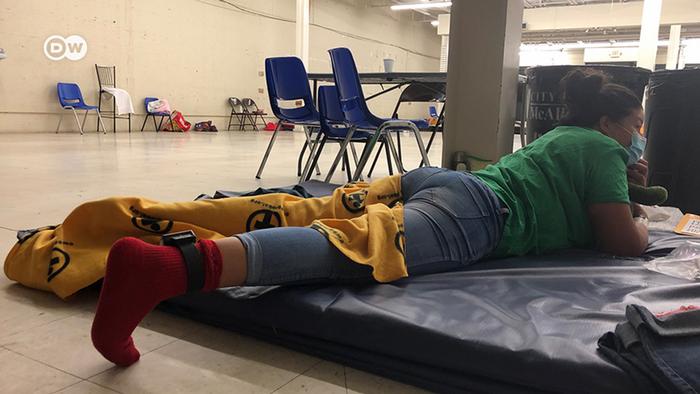 "Michelle" on her mat on the former dance floor 3
Michelle's name is actually different, but she would like to be called that. "Like Michelle Obama," she says and smiles. She is lying there with a stuffed turtle in her arms, her son's new cuddly toy that they both got as a present. Meanwhile, your baby is sleeping peacefully on the mat by your side. Her destination is Dallas, she says, and her face lights up. "My husband has lived there for a year. He doesn't even know his son. He works there on the construction site and is already expecting us."
Overloaded courts, tight ankle cuffs
After all, she has already received a temporary residence permit. Michelle is allowed to stay in the USA - for the time being. Now a court has to decide whether she will be granted permanent asylum. The process itself can take up to a year and involves several hearings. Often, however, the refugees have to wait two to four years for a decision because the responsible courts are completely overloaded - a trend that is likely to intensify.
Since the new US President Joe Biden took office, the number of migrants arriving from Central America has skyrocketed. In March alone, the US authorities arrested over 172,000 people without valid papers - more than in 15 years.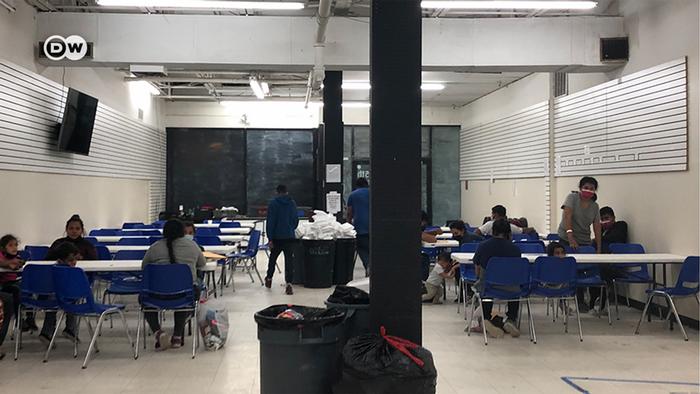 The shelter's dining room was also a dance floor
Michelle is wearing an ankle cuff that was put on her by the border police. The device is firmly attached to her ankle, and she can't even take it off to take a shower. "It pinches," she says, "sometimes it hurts a little too." When the battery is empty, the ankle cuff vibrates and emits a loud beep. It then has to be recharged quickly. Meanwhile, Michelle has to stand or lie near an electrical outlet. She has to wear the handcuffs at least until her first hearing on May 18. Then a new decision will be made.
The shackle prevents Michelle from simply going into hiding, like so many migrants without valid residency status in the USA. Why she of all people - the only one in her group of refugees - was given an ankle bracelet, she doesn't know. She was chosen at random from a number of 15 people, says Michelle.
Asylum - and then what?
She gives hope that US President Biden has meanwhile announced that the upper limit for the admission of refugees for the current financial year, which was decreed by ex-President Donald Trump, is being raised significantly. Instead of the "historically low" upper limit of 15,000, a maximum of 62,500 refugees are now to be admitted by the end of September. It is not yet clear according to which criteria this should be done. Biden has emphasized several times that no unaccompanied minors are sent back, but many families with young children are also tolerated on US soil. They are all allowed to apply for asylum and stay until their status has been clarified. That too has led to a sharp increase in the number of refugees.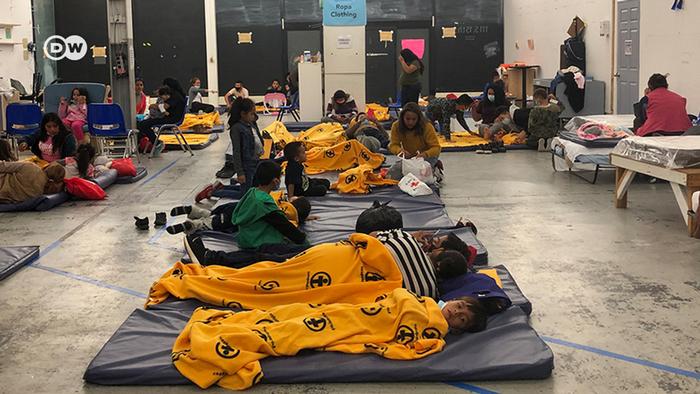 People lie mat by mat on dance floor 2
A former helper at the refugee accommodation, who does not want to be called by name, says, however, that afterwards people are often left to their own devices. They would get their tolerance letter and would then simply be adopted at the exit of the migration police on US soil. Especially those who arrive as families. "The government's work obviously stops there," she says indignantly.
She is now placing her hopes on Kamala Harris, who, in her role as Vice President, will tackle the root of the problem. Harris should find a way to work with the governments in the countries of origin and create prospects for the people in their countries so that they do not have to flee in the first place. Joe Biden tried this before when he was Vice President under Barack Obama. "But this time it's a woman!" Says the helper with a convinced voice. "You could do it!"
Michelle and her baby are also allowed to drive on the next day. They want to take the bus to Dallas, to see Michelle's husband, with whom she will wait for her court date. Was it worth the dangerous journey? "It just couldn't have been any other way," says Michelle. "We don't live in Honduras, we survive."