American workers fall behind
Joe Biden's economic plans
Four years ago, Donald J. Trump had promised American workers the unthinkable: the return of manufacturing jobs. These jobs have been the backbone of the US superpower's economic success for nearly 100 years and have been lost to countries like China and Mexico over the past 20 years.
Regardless of the questionable results in trying to revive domestic manufacturing, Trump's protectionism and catchy slogans found the strain Make America Great Again or America First very well received by the workforce.
So it was not surprising that his Democratic challenger in the election campaign also promised to restore America's industrial supremacy if he won the White House race: there would be more products made in America again. Now that his victory is certain, Joe Biden must set about delivering on his promises.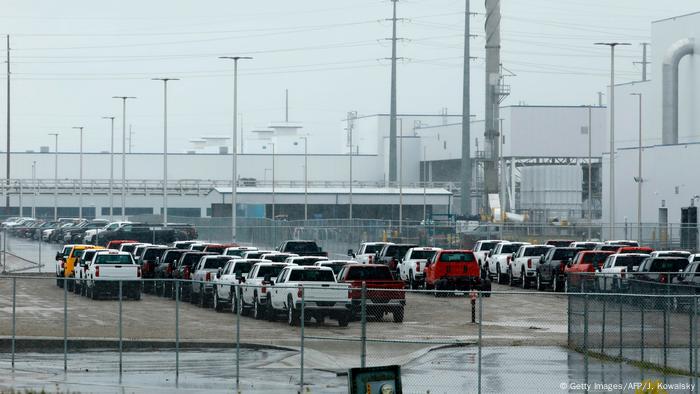 The decline of US industry (here a GM auto plant in Flint, Michigan) was a major issue during the campaign
The job promise
Although the fight against the corona pandemic would be a top priority in his administration - as Biden made clear in his first address as President-elect - he will expand the "Buy American!" Campaign to support domestic production and so millions more To create jobs, including a million in the auto industry. But the economy cannot be repaired without successfully combating the pandemic.
The "President-Elect" 's economic policy plans also include a ten percent tax for companies that relocate jobs abroad. In addition, loopholes are to be closed with the help of which internationally operating US companies book their profits generated abroad to the Internal Revenue Service (IRS), i.e. bypassing taxes. Projects that strengthen domestic production would benefit in return from a ten percent tax relief.
Mark Zandi, chief economist at the rating agency Moody's, told DW that this "carrot and stick" aspect of Biden's plan could well have an impact on where American companies are based their production. But Zandi added that the Democrats would not only have to conquer the White House: "If the Senate remains under Republican control, Biden would find it very difficult to implement legislation. This also applies to the 'Made in America' plan. "
Not really convincing
Other economists consider Biden's economic promises to be just as dubious as Trump's. After all, internationally operating companies often relocate their production abroad in order to better benefit from still new markets such as China or Brazil.
"A very high proportion of US production in other countries is earmarked for the markets or regions in which the factories are located," notes economist Ed Lotterman. "Very little of that will ever return to the US." Lotterman told DW that if a company could be persuaded to move to Iowa or Illinois, a rival would be sure to take the vacated space at an overseas location.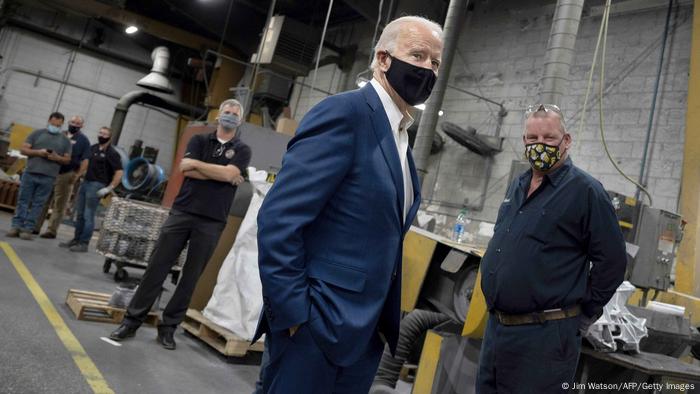 When the economy decides everything: Biden is considered an empathic person who always shows a human interest ...
Very deep pockets
Although as a Delaware state senator he had warned of the dangers of an escalating national deficit, Biden now plans to further increase the federal deficit, which currently stands at around $ 3.3 trillion. He plans a $ 5.4 trillion spending package over the next decade.
Biden's pledges to fight climate change, facilitate access to health insurance, provide affordable housing, and fight against social inequality have met with widespread support from progressive US citizens.
According to its website (joebiden.com), investing in infrastructure would help achieve full employment. Most of the government spending should go to education.
Turning point in tax policy
Major tax hikes, mostly for the higher-income earners, are expected to offset the $ 1.5 trillion tax breaks over the past four years and fund two-thirds of its planned spending. Analysts suspect that the central bank's current monetary policy could compensate for the remaining third.
"There will be higher budget deficits," Zandi told DW, "but economically that's not a big problem because interest rates are so low and will be so for some time." Other analysts, on the other hand, point to a drastic increase in capital gains tax: This could lead to a huge sell-off on the stock markets.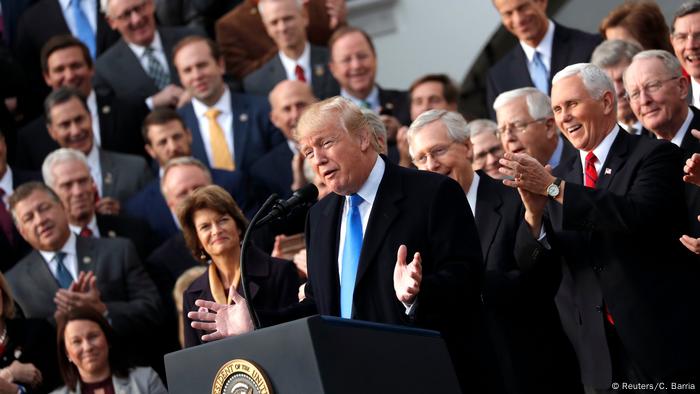 ... while Trump, here with the passing of his tax reform in Congress, is more on the side of the big ones from a fiscal point of view
Trading as a tightrope act
Biden would be under pressure to take back much of Donald Trump's aggressive trade policies that have damaged ties with key allies, namely Mexico and the EU. However, trade experts point out his hands could be tied with his promise of the 'Made in America' plan. Customs duties would therefore have to continue to be levied, even if they represent a high burden for many importers.
"Biden would continue to put pressure on the Chinese. But he would adhere to international trade laws and not start a trade war," predicts Mark Zandi. "He will work again with the World Trade Organization (WTO) and other multinational associations to put pressure on Beijing to change China's behavior."
Adapted from the English by Dirk Kaufmann. The article was first published on October 29, 2020 and updated on November 8, 2020.