How can I make 20,000 a month
Make money on the Internet (or: € 20,000 in 3 months)
I will now reveal the ultimate trick with which you can earn € 20,000 on the Internet within 3 months without having the slightest prior knowledge.
... so, or something like that, many people are lured to various websites, on which they then fall into the sales trap and spend a lot of money on an information product that only plays with their hope of a quick profit. Earn money quickly on the Internet ... that's as serious as the local drug seller in the park, namely not at all.
Earning money on the internet: super fast and super easy?
Whether you are relieved of 100 euros and get an e-book full of empty promises for it, or whether you throw 10 euros in the wind to go home with a bag of oregano - both of these amount to the same thing.
However, both are only due to ignorance and will not go the same way the second time. In order to save you the purchase of an information product with zero added value, I would like to say a few words on this subject. In addition to the fact that I generate a certain (small but fine) portion of my income on the Internet, I fell on my nose several times at the beginning. So I'm the right person to tell you about it.
So now you have made the decision to get more time, more freedom and, if possible, more money through self-employment. So far nice! A growing number of people seem to use the keywords "make money on the Internet" or "make money from home" to be the right way to do this. Quite possible! But before I start to put yourself on a cloud by listing all the advantages and let them float upwards, it is more important to me to mention right at the beginning that the path is extremely rocky, you have to be patient and a lot must learn in order to get on the right track.
Once you get there, many opportunities to earn money on the Internet also offer a lot of advantages. With many types of online earnings, it is perfectly feasible not to have to sit in front of the computer while the income gushes happily into the account. There are also many examples of people who manage to generate a profitable income and spend less than 10 hours a week in front of their computer. All of this is possible, but first and foremost all of this requires one thing: extremely hard preparatory work!
What you can do for money online on the internet
In order to give you an overview of the work options, I have listed them here. These are all activities that can be carried out entirely over the Internet. The separation of the main areas can be drawn, as in the real world, between services on the one hand and products on the other:
Services:
Write texts (blogs, magazines, books, ...)
Translations
Web design
general design / layout
programming
Assistance activities
Communities / platforms
photography
Mentoring / counseling
marketing
Products:
Classic online shop
Digital information products (e-books, guides, how-tos)
Digital music products or audio podcasts
Videos / video podcasts
Online seminars
Software / apps

Some items on this list require a lot of experience, the right background or good prior knowledge. Other points only require the willingness to get started and market yourself so that you can ultimately be found by potential customers.

Earning Money on the Internet: Digital Products vs. Services

In general, one can say that the points in the product column certainly offer a great advantage: You can ensure a so-called 'passive income' in the long term. That doesn't mean that you can put your feet up and the money will find its way into your account on its own.

But it means that (once business is up) after a few weeks of hard work you can go on a trip around the world and not have to work on the go. The above-mentioned services do not necessarily require the presence in one place and can all be brought to the man via the Internet, but they only bring money after a successful completion of the corresponding work, a certain independence of the income is difficult here but at least you can make money from home.

While there are also a lot of black sheep when it comes to digital products, the service sector is not so criticized. After all, the customer usually only pays for a completed service according to the "See what you get" principle. As a product provider, you can repeat this trust with a 'money-back guarantee'.

Conclusion

Each of the above points offers a lot of potential to become self-employed on the Internet and to enjoy the advantages and freedoms of the online entrepreneur. I will go into more detail about individual items on the list in later articles. Until then, have fun thinking about which product or service you have to offer! Suggestions to expand the list are very welcome ...

PS: Anyone who really begins to shovel money can have Uncle Scrooge's money storage rebuilt here according to the following plans: (Anyone who would like to have the design revised or need a building application for this can confidently contact me):

Live by your own rules!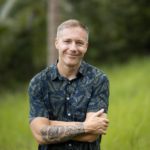 About the author
Tim Chimoy
Tim has been working on the topics of location-independent work and digital entrepreneurship since 2012. He earns his living as an architect, book author and consultant for new work and digital transformation. He is also the founder of the Citizen Circle. Even if Tim likes to travel a lot: His home is currently the city of Chiang Mai in northern Thailand.
Free newsletter for location-independent work
Would you like to get started regardless of location? Enter your email address and we will send you regular information about it in our newsletter. You will also find out as soon as the CC accepts new members.
3 responses to "Earning money on the Internet (or: € 20,000 in 3 months)"
Nice listing thank you. Under the gack with the blueprint from Dagubert Duck is also great 😉

LG

The idea with DD's money storage is really very cool !! I would really like to have the draft 🙂
There are really many ways to make money on the Internet and there is something for everyone. What you definitely need is the will, perseverance and a lot of hard work!

Good day everyone, I wish you a Merry Christmas back and for 2020 health, strength and endurance for all the nice people who enable me to copy strategies for making money - without rip-offs - on the Internet. As a businessman I am good at organizing, I have time and I want to fulfill my dreams.
Best regards
Georg Merholz from Oldenburg / Oldenburg
Leave a message
Click here to cancel answering.