The gun laws of the USA are sheer madness
How the US gun lobby is taking advantage of the protests against the corona protective measures
Conservative members of the US gun lobby are behind several groups protesting against the corona protective measures in various US states. A DW research suggests that the coordinated action is apparently also pursuing a long-term goal: to relax the gun laws.
Since mid-April, thousands of people in the USA have been organizing themselves online and calling for an end to the exit restrictions in the country during demonstrations. On their Facebook pages, the organizers of some protests write that the protective measures to combat the coronavirus are the work of "politicians on a power trip" who "destroy our companies, pass laws behind our backs and force us to give up our freedoms and our livelihoods. "
Mobilization via gun lobby pages
The slogan of the ongoing protests is "Reopen America". Between April 8 and April 16, at least 34 Internet domains with similar names were purchased, such as www.reopeniowa.com or www.reopenpa.com for the states of Iowa and Pennsylvania.
If you enter these web addresses, you will automatically land on the websites of gun lobby groups. Among other things, it is wrongly claimed there that the coronavirus is "significantly less deadly than the flu". And it goes on: "President Trump has made it very clear that we must send America back to work very quickly, otherwise the 'cure' for this terrible disease could be worse than the disease itself!"
Because so many "reopen" web addresses were registered in a very short time sequence, social media users soon sensed so-called "astroturfing" - the attempt to make a campaign behind which a single person or group stands look like a social mass movement .
Of the 34 web addresses, 16 are currently active. Five of them can be traced back to a single family in the Midwest - the Dorrs. These five "Reopen" websites are registered for Iowa, Minnesota, Pennsylvania, Wisconsin and Ohio. In all five states you can openly carry weapons with you with a state permit.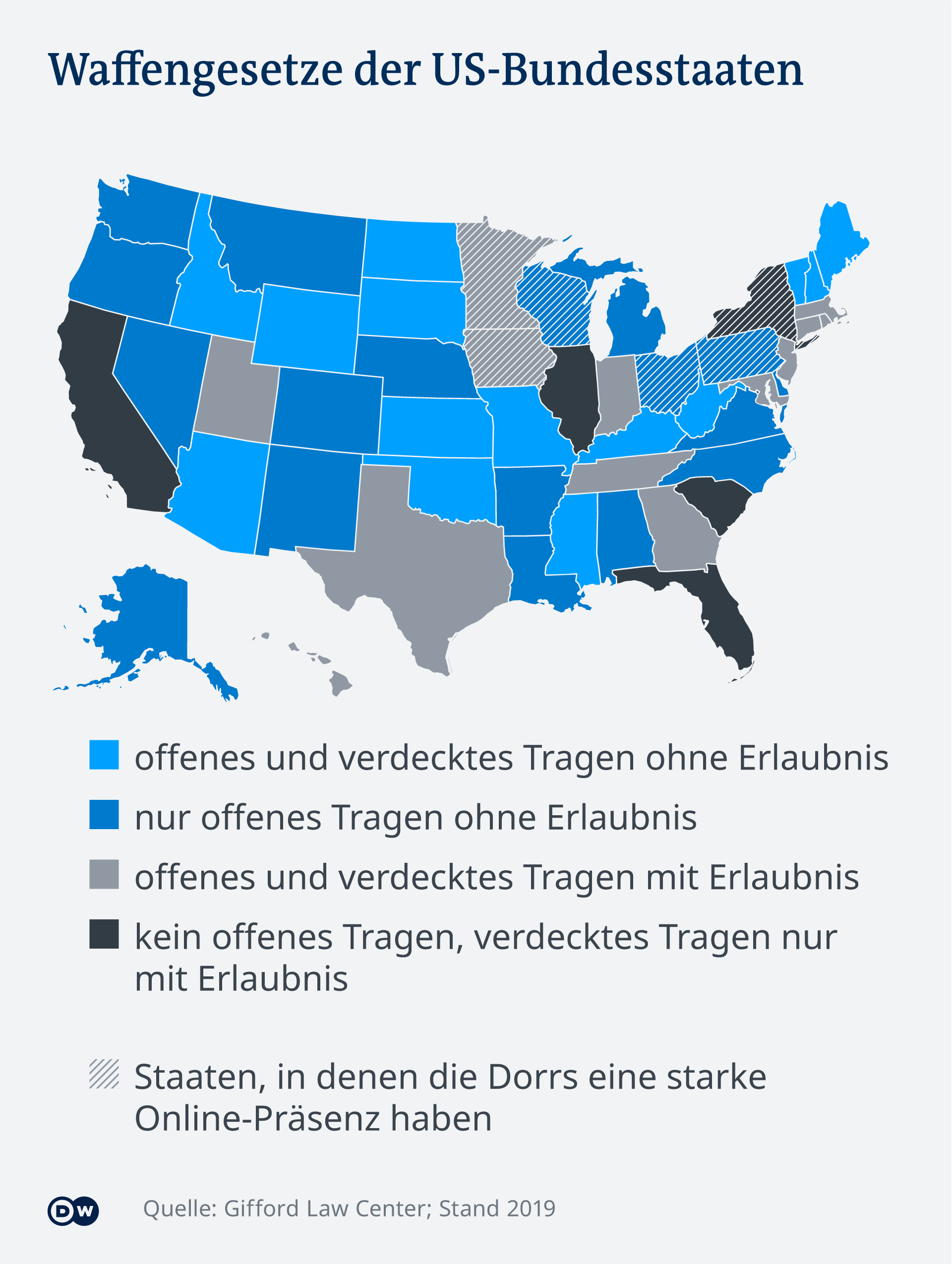 For the Dorrs, ultra-conservative gun rights activists, these laws are not liberal enough.
Above all, three of the Dorr brothers - Ben, Aaron and Chris - are fighting politically for the unrestricted right to carry a weapon. Despite being ardent supporters of Donald Trump, this often brings them into conflict with the President's Republican Party. Because many Republican MPs and Senators are not liberal enough for the Dorrs with a view to the arms legislation. In search of new supporters, they are now apparently deliberately igniting the protest movement against exit and contact bans in order to build up political pressure.
White House support
Health experts warn that larger protests against coronavirus safeguards could contribute to the steep rise in COVID-19 cases in the United States. According to the Johns Hopkins University, more than 900,000 people in the USA have so far contracted the virus, and around 52,000 have died (as of April 25). No other country is currently more affected.
Nevertheless, President Trump publicly supported the protests against the corona protective measures. "FREE MICHIGAN!", "FREE MINNESOTA!" and "LIBERATE VIRGINIA, and save your great Second Amendment. He's under threat!" wrote Trump on Twitter on April 17th.
The Second Amendment guarantees citizens the right to carry weapons. Trump is considered a strong advocate of this constitutional amendment. This can also be seen now in the Corona crisis: The arms shops remain open as "essential" companies.
The Dorr brothers are also campaigning for the Second Amendment to the Constitution - and are calling for legislation that allows gun owners to carry handguns openly or covertly without any license or authorization.
Such laws are already in effect in several US states - but not in the five states for which the Dorr brothers purchased the "Reopen America" ​​web addresses. Judging by their previous political activities, it seems reasonable to suspect that they want to use the unrest and fears surrounding the corona pandemic to gain more supporters for the gun lobby.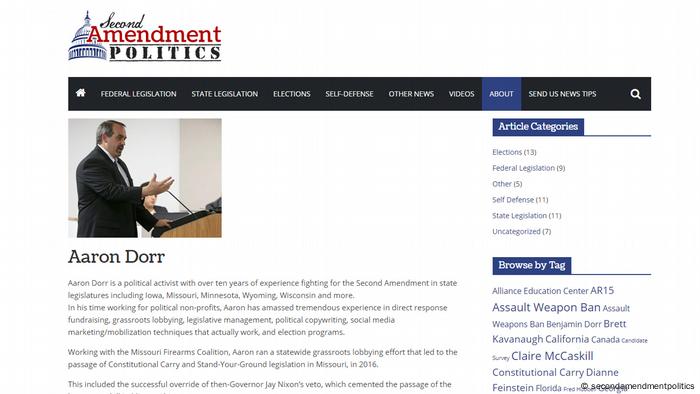 DW asked Dorrs to comment. The request remained unanswered until the time of publication.
Calls for violence and conspiracy theories
Further information on the long-term strategic goals of the Dorr brothers can be found in their Facebook groups against the Corona "lockdown", which now have more than 200,000 members.
It is noticeable that the two Facebook groups "Reopen Minnesota" (formerly "Minnesotans Against Excessive Quarantine") and "Pennsylvanians Against Excessive Quarantine" have almost exactly the same description. The corresponding web addresses were registered on April 8th - every two minutes. Ben Dorr and Matt Dorr, who otherwise hardly appears, are listed as administrators. Together with their brother Chris Dorr, they are also administrators of other protest groups.
On his personal Facebook page, Chris Dorr is currently sharing memes that depict the coronavirus as "fake". He posts conspiracy theories about how the US government supposedly wants to take people's freedom. And he claims that if the "abortion mills" stayed closed for two weeks, the virus would "have saved more people than it killed".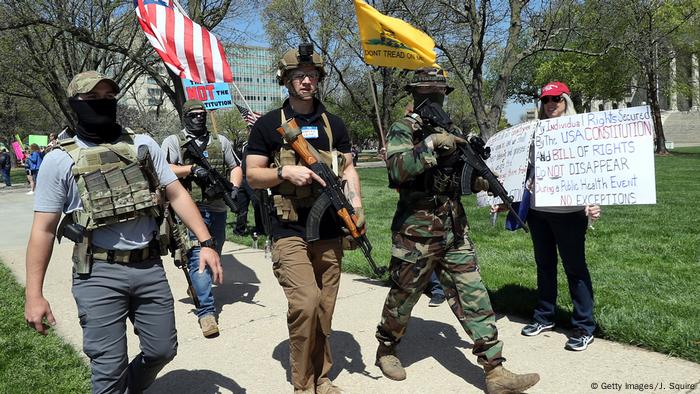 Armed veterans demonstrate against "lockdown" on April 23 in Topeka, Kansas
In the comments under his posts there are statements like "I just want to warm up my SKS" - a reference to a semi-automatic rifle. An April 21 comment said, "I own a gun shop and business is almost never going!" Other comments on Chris Dorr's profile call for violence against liberal politicians and use language associated with the racist hate group Ku Klux Klan.
Facebook did not want to comment on these statements when asked. However, one continues to check content that is related to the protests against corona protective measures, it said. "As long as the government does not ban the event during this time, it can be organized on Facebook. For the same reason, events that violate the government's guidelines on social distancing are not allowed on Facebook," a Facebook spokesman told DW.
The Dorrs digital empire
Links on their private Facebook pages and in the groups in which the Dorr brothers are managed as administrators allow conclusions to be drawn about the number of websites they actually operate. The connection is made accessible through publicly visible registry entries that show the date and time of the web address purchase.
Such entries are comparable to an entry in the land register and are intended to ensure that the corresponding web address can only be used by the current owner for a certain period of time - usually at least one year.
The "Reopen" websites for Ohio, Pennsylvania, and Minnesota were registered in close succession - an indication that they were purchased in the same transaction. In addition, they all have the same Google Analytics tracking identification number. This is code for tracking website visits. The websites for the states of Iowa and Wisconsin also use this code and were registered on the same day.
The Dorrs' gun rights websites, to which most of the "Reopen" web addresses forward the user, look the same and contain similar, often identical texts. An analysis of the HTML code reveals connections between the Dorrs and other websites, groups and people. How great the political influence of the Dorrs really is can hardly be estimated.
However, DW has identified further links to other gun rights websites, anti-abortion websites, and targeted campaigns against US senators who refuse to relax gun rights.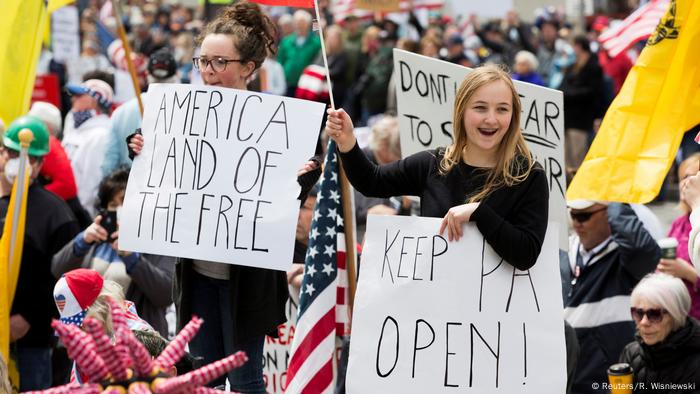 Protests against the corona protective measures in Harrisburg, Pennsylvania on April 20
This large-scale online activity by the Dorr family reinforces the impression that larger parts of the American population reject the corona protective measures. In fact, nearly 70 percent of Republican and 95 percent of Democratic voters support the national stay-at-home order, according to a recent poll by Quinnipiac University.
"This is sheer madness"
Michael Murphy, a small business owner from Florida, is one who wants to counter the "lockdown" protests. After reading an article on April 17th about the anti-safeguard demonstrations, he took action and bought more than 200 web addresses, including "Reopen" addresses that were still available and those that began with similar terms, for example with "liberate".
Murphy told DW that he wanted to prevent more such protest sites from being registered and abused. "I ran into my study and bought all variations of it". He paid $ 4,000 out of pocket for it. It was only later that he discovered that many other "Reopen" domains "are linked to all of these weapon sites".
A friend later advised him to sell his domains to progressive political groups. They could "be used for evil if you don't resell them to anyone except armed idiots," said the message that DW has received.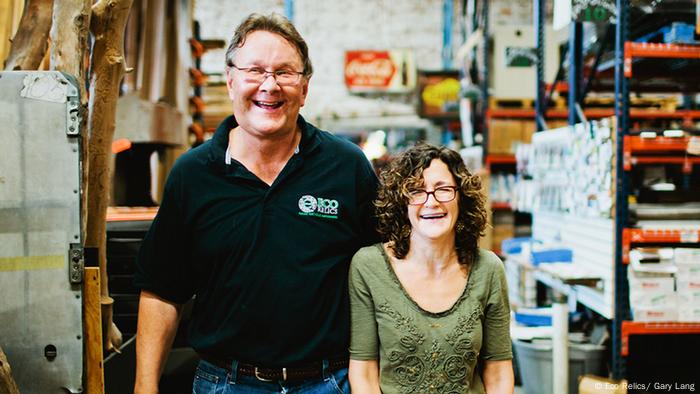 Michael Murphy: Web addresses are "a powerful tool"
When Murphy's purchases became public, he was also accused of "astrosurfing" on viral social media posts. Representatives of the left-liberal political spectrum accused him of starting the "lockdown" protests and of being a Russian spy. "My phone started ringing. At first it was just a trickle, then a flood. As soon as I hung up it rang again," recalls Murphy. "I've received a lot of really threatening calls, so I just turned the phone off."
Murphy is convinced that he has a "really powerful tool" in hand with the purchased web addresses, but the domains registered under his name remain inactive. "I have no need to own it. The whole point of this thing was that I wanted to do something good."
The Florida entrepreneur has a clear opinion of the "Reopen" protests: "This is sheer madness. The people who are in the hospital are in really bad shape. And the hospitals don't know what to do. The last one what we should be doing is reopening the country. "
This is what the protest against the corona restrictions looked like on April 20 in Pittsburgh
The 2020 election year
According to the leading US expert on infectious diseases, Anthony Fauci, up to 200,000 people in the US could die in the wake of the corona pandemic.
Actions like that of the Dorr brothers could change the political landscape in the 2020 election year and even influence the outcome of the presidential election in November. Donald Trump continues to show a lot of understanding for the often vocal minorities on the right-wing political edge. In doing so, he also supports people like the gun-loving Dorr brothers, who already boasted in an open letter to Trump in February 2018 that with the gun lobby they made a significant contribution to his election success.
Editorial assistance: Helena Kaschel and Sandra Petersmann (DW) as well as Brendan Rivers (WJCT News)