Rental car classes: This is what the ACRISS code means
When you book a rental car, you are usually not entitled to a specific model. However, you can choose the vehicle class and type. Find out here how you can easily find a suitable rental car model using filters and the ACRISS code.
Most car rental companies assign a four-digit code to each rental car. Here you can find out what this code reveals about the vehicle and whether you are entitled to a specific model when renting a car.
---
What do the abbreviations for rental car classes mean?
Rental cars are international after the four digit ACRISS code (also SIPP code or CRS code) classified. The rental car classes in Germany are therefore identical to the rental car classes in the USA, for example. The vehicle types, however, are different!
The code was jointly defined by the Association of Car Rental Industry Systems Standards (ACRISS) and is used consistently by its members. This includes the major international car rental companiesAlamo, National, Enterprise, Avis, Budget, Sixt, Europcar and Hertz. This means that the rental car classes at Europcar, for example, have the same codes as the rental car classes at Hertz.
The order of the four letters corresponds to the following structure:
Category - Type - Transmission - Fuel / Air conditioning

Note:

The code CCMR z. B. combines compact class models such as the Audi A1, the Opel Merica and the Citroen C4 and stands for the following:
C.= Compact (compact class)
C.= 2/4 door (2/4 door)
M.= Manual (manual transmission)
R.= With AC (air conditioning)
---
Example models for rental car classes according to the ACRISS code
In addition to the ACRISS code, there are other help codes that are intended to make it easier for employees of car rental companies to find suitable offers (e.g. one code for all minibuses, etc.). The rental car classification is based on a strictly regulated system.
Some ACRISS codes with example models:
ECMN (Small car, 2-4 doors, manual transmission, no air conditioning):
Opel Corsa, VW Polo,
CDMR (Compact class, 4 doors, manual transmission, air conditioning):
Ford Focus, Renault Megane
FWMR (Upper middle class, station wagon, manual transmission):
Audi A4 Avant, Mercedes Benz C-Class T-Model, BMW 3 Series Touring
CLMR (Compact class, sedan, manual transmission, air conditioning):
VW Golf, Mercedes Benz A-Class
CTMR (Compact class, convertible, manual transmission, air conditioning):
Mini Cooper Cabriolet, VW Golf Cabirolet, VW Beetle Cabriolet
---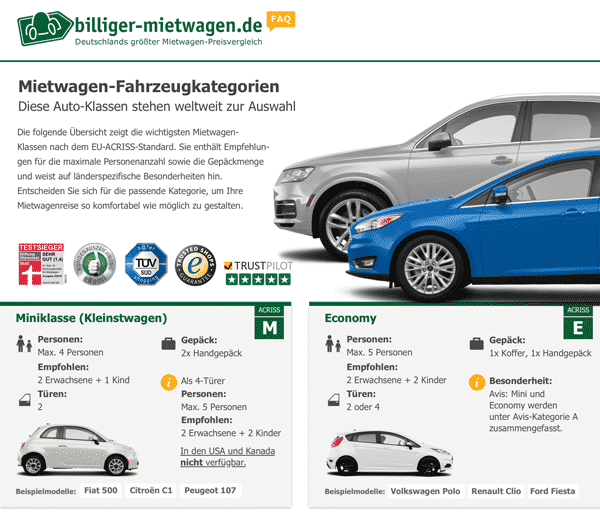 >>> Click here to view the full infographic
With this code you can embed our infographic on your website:
---
Overview of the codes: Car rental class table
category
type
transmission
Fuel / air conditioning
M.
Mini (microcar)
B.
2 doors
M.
Manual transmission
R.
air conditioning
N
Mini Elite
C.
2/4 doors
N
Manual transmission, four-wheel drive
N
No air conditioning
E.
Small car
D.
4 doors
C.
Manual transmission, four-wheel drive vehicle
D.
Diesel, air conditioning
H
Small car elite
W.
Station wagon
A.
Automatic
Q
Diesel, no air conditioning
C.
Compact class
V
Van
B.
Automatic, all-wheel drive
H
Hybrid, air conditioning
D.
Compact class elite
L.
limousine
D.
Automatic, four-wheel drive
I.
Hybrid, no air conditioning
I.
Middle class
S.
Sports car
E.
Electric motor, air conditioning
J
Middle class elite
T
Convertible
C.
Electric motor, no air conditioning
S.
Standard class
F.
SUV
L.
LPG / pressurized gas, air conditioning
R.
Standard class elite
J
Off-road vehicle
S.
LPG / pressurized gas, no air conditioning
F.
Upper middle class
X
Special (e.g. navigation system)
A.
Hydrogen, air conditioning
G
Upper middle class elite
P
Pickup with a single cabin
B.
Hydrogen, air conditioning
P
Premium
Q
Pickup with second row of seats
M.
Multi-fuel engine, air conditioning
U
Premium Elite
Z
Special offer
F.
Multi-fuel engine, no air conditioning
L.
Luxury class
E.
Coupe
V
Gasoline, air conditioning
W.
Luxury class elite
M.
People carrier
Z
Petrol, no air conditioning
O
Oversize
R.
Leisure car
U
Ethanol, air conditioning
X
Special, upper class
H
Camper
X
Ethanol, no air conditioning
Y
Two-wheeled vehicle
N
Roadster
G
Crossover
K
Transporter
Source: acriss.org
---
Book the right rental car class
When you book a rental car, you are not booking a specific model or brand, just a specific class of rental car. You specify this when you make your booking. At billiger-mietwagen.de we offer you appropriate filters with which you can narrow down the search to one or more car classes. In addition, you can also select one or more types in a rental car class (e.g. mid-range SUV).
On the search results page you will find filters for the vehicle classes in the sidebar on the left
It can be useful, after Several Filter categories. If you z. If, for example, you are looking for a large vehicle for a trip with the family, you can activate the "Kombi" filter in addition to "Van".
You will then only be given appropriate Offers in this vehicle category displayed. Information about Fuel regulation and to deposit can usually be found in the Rental conditions for the offers.

Rental car class gives no information about car brand
There is no correlation between rental car classes and car brands. The car shown in the picture is just an example. If a BMW is shown there, that does not mean that you will definitely get a BMW or at least an Audi on site. The landlord can just as easily give you a Fiat, Skoda or other brand. The vehicle class only determines the size and equipment of your car.
---

36 responses to "Rental car classes: This is what the ACRISS code means"
If you are not careful, you will be regularly "ripped off".
Certain landlords seem to specialize in this more than others.
With Buchbinder (and their numerous brands) I have now received a worse category than booked twice.

In the first case I booked an IWMR and buchbinder didn't have a vehicle for me on site. Billiger-mietwagen.de then advised me to have it certified and then rent it elsewhere. First, the employee at Buchbinder refused to confirm this ("No manager present at the moment"), which I can even understand. But I also didn't feel like renting a replacement vehicle from another landlord at my own expense at walk-in rates and then running after my money afterwards. So I accepted a downgrade.

In the next case, I received a downgrade without comment (EWMR instead of CWMR). As has already been described here, a Skoda Fabie (EWMR) is significantly smaller than a Skoda Octavia (CWMR). But for bookbinders this is all one and the same category, as I was told on the phone.

All of this is very unsatisfactory. I can only advise against making bookings with Buchbinder and their brands. The offers seem cheap, but the trouble is inevitable.

Hello,

we therefore recommend every customer to always take a look at the landlord reviews on our portal. There you can find the experiences of previous customers and if such reports come up more often, you, if you are undecided, have the opportunity to choose another landlord.

regards
Harald from billiger-mietwagen.de

Good day,
Unfortunately, the Acriss code only gives an approximate size of the vehicle.
The specified comparison type is also not binding for the lessor when the vehicle is picked up.
For example, if I book a vehicle with code CWMR and a comparative type Ford Focus Kombi through BM, I end up with a Scoda Fabia Kombi, which is, however, much smaller.
The complaint on site then leads to an upgrade that is associated with additional costs. Also a method to collect additional cash. I am very dissatisfied with that.
With best regards
Andreas Müntel

Hello Clemens,

the Mini Cooper One with five doors can be described with the following ACRISS codes: EDMR, DDMR, CDMR and DDMR. This always depends on the classification by the landlord.

regards
Harald from billiger-mietwagen.de

Good day,
can you roughly predict which Avis cars in Rhodes (Greece) are behind the Avis class E with ACRISS code DDMR?
Do you only get something like an Audi / BMW / Mercedes or what is guaranteed with the first "D"?

Thanks for the help

Hello Sebastian,

the first D stands for "Compact Elite" but does not guarantee a specific brand. Avis itself gives an Audi A3 as an example car, but you should assume that other brands such as Peugeot or Hyundai could also be considered for this class.

regards
Harald from billiger-mietwagen.de

Good day,
We need a rental car on Mallorca that has space for 3 child seats on the back seat (1 booster seat, 1 baby safe and 1 seat cat. 1).
Which vehicle type is required at least with which ACRISS code?

The vehicles assigned to an ACRISS code seem to be interpreted very differently from provider to provider. Is that so or is there a central requirement?

Best wishes,
Julia

Hello Julia,

the rental companies each use their own categorization, so that an ACRISS code may lead to different vehicles for some rental companies.

With three child seats next to each other in the vehicle, we would probably recommend at least IVMR or SVMR, i.e. Intermediate or Standard Van.

regards
Harald from billiger-mietwagen.de

Hello, I had booked a jeep with the IFAR class. The invoice says Q4.
According to the internet, it's an SUV.
Then I was told that such a vehicle was not there and that I should upgrade.
After all, $ 25 a day.
I find it pretty cheeky.
But I had no other choice because the lady said that otherwise we would only get a limousine ......
What to do?
Can you complain?
A.

Hello Antonia,

In such a case, please call either us or your organizer immediately, while you are at the counter and before you sign anything, so that a solution can be found for you.

As soon as you have confirmed an upgrade by signature, a complaint is usually no longer possible.

regards
Harald from billiger-mietwagen.de

Hello Rainer,

As you have already learned from your phone call with our customer advisor, your booking does not include a guaranteed diesel vehicle.

In principle, offers with diesel vehicles are marked accordingly so that you can be sure when booking.

We cannot currently offer a filter for diesel vehicles, as this is an exception for rental companies and rental companies cannot usually guarantee that you will receive a diesel vehicle.

regards
Harald from billiger-mietwagen.de

Hello service team,
I booked an IFMR class on Saturday as the Toyota RAV 4 is given as an example. We are 4 people and have 4 large suitcases. But now I have seen (booked through CarDelMar Alamo) that a Nissan Quashqai, for example, can be hidden behind it, which has a much smaller trunk. How can I find out which vehicle we are getting or can I register a vehicle. I would also swap for a station wagon, e.g. Passat. My booking number is: 6475501. Thank you in advance for your support. Warmest regards

Hello, Josef,

The vehicles shown are only examples to give an approximate idea of ​​the expected size in the booked class. The trunk can vary in size. Unfortunately, we do not receive any information from the rental company as to which car of the booked class you will receive. Often the landlords decide that too at very short notice.
Unfortunately, no rebooking is possible with the provider you have chosen. However, you can still cancel the booking free of charge and book a new offer. With 4 people and 4 suitcases, a station wagon or van is more advisable anyway.
We will immediately send you an offer for a station wagon.

Best wishes

Annika from billiger-mietwagen.de

Dear BM team,

It is a shame that the suggestion from over a year ago (see 11.08.17 & 17.06.17) to include the ACRISS code as additional information in the offer overview has not yet been implemented. Since the bottom line is that I book such a code class, it helps me a lot more in the end with the decision than the non-binding, poorly selective car examples (you can already see from the fact that, for example, "Fiesta" and "Focus" like to be included in one offer can be performed in parallel).
As a result, after two dozen BM bookings in recent years, my wife and I will now book for the first time on another portal, which also includes the ACRISS code in the overview as standard. (I am aware that I can ask BM for the code over the phone or that it appears in my voucher - but that is hardly suitable as a basis for decision-making when comparing offers.)

Best regards
Torsten

Hello Torsten,

we are definitely still working on displaying the ACRISS code for the respective rental car offer.

However, the problem here is that the landlords may use their own classification and therefore the ACRISS code does not always provide the sufficient security that one would expect.

regards
Harald from billiger-mietwagen.de

Hello rental car team,

we booked a Fiat 500 or similar in Italy NBMR but unfortunately got a Panda ECMR.
What is the Mini Elite category all about? We paid almost twice as much for this as for a panda.

Hello Frank,

I recommend that you get in touch with our customer service. This enables us to check your booking and see whether the vehicle you received corresponds to the vehicle class you have booked. If this is not the case, we will be happy to assist you with a complaint.

regards
Harald from billiger-mietwagen.de

Hello Rosi,
an FWMR is in the international Acriss Code directory a so-called "full-size station wagon" and belongs to the upper class, station wagon. A CDMR is a classic "compact class". The two models differ in price, as a full-size station wagon is several classes higher than a compact class. If you have any further questions, please contact our Service Line on 0221 567 999 11. We will be happy to help you with your inquiry.
Kind regards, Stella from billiger-mietwagen.de

It would be nice if you also include the number of suitcases as a selection criterion. Small / large. Not every station wagon, van or SUV is blessed with a large trunk ...

Hello Annette,

Thank you for that suggestion. Unfortunately, the trunk space can also differ within the vehicle class that can be booked, so that it is not that easy to incorporate this criterion. We are working on it!

regards
Harald from billiger-mietwagen.de

Good day,
In Africa, the vehicle category is arranged a little differently than in Germany, for example.
The upper middle class includes the ACRISS codes RDAR = Premium upper middle class z. B. Audi A3 or similar, SDAR = upper middle class z. B. Toyota Corolla o. Ä. And SFMR = upper middle class SUV z. B. Renault Duster or similar
Please contact us by email or phone if you have any questions about a specific offer.
Best wishes,
Nicole from billiger-mietwagen.de

Hello dear service team,

what does the designation "special car" mean in the compact class?
this is not described in more detail and the example vehicles vary between normal compacts and mid-range compacts (BMW 1er or similar) ...
thanks
Martin

Hello Martin,

the term "Special Car" is always used when the vehicle has special equipment. This can be the case in any vehicle class that you get a car that has better interiors or more power, for example.

Kind regards, Pia from billiger-Mietwagen.de

For me, a VW Golf or comparable with 4 doors, automatic, air conditioning and 5 seats was booked from D.
The vehicle code ECAR is now on my voucher that I just printed out.
E in the vehicle code, however, corresponds to a VW Polo, Opel Corsa, or similar, so in no way comparable.
Tomorrow at noon I'll pick up the car and I'm excited to see which bowl they'll try to turn on me ...
And I have no chance to defend myself and insist on the vehicle I paid for in advance ...

Hello Janine,

If this is your booking for Mexico, you have booked a VW Gol or something similar here. This is not comparable with the VW Golf, as it is common in Germany.

The VW Gol is common on the Latin American market and comparable to our VW Golf. The categorization is therefore correct on your voucher.

Best wishes,

Emma from billiger-mietwagen.de

Best wishes,

Emma from billiger-mietwagen.de

I also keep getting annoyed with the question of which class / vehicle I am actually booking. Specifying the code BEFORE submitting the booking would be very helpful.
Until then, I hope to be able to get the code over the phone (let's see if it actually works that easy).

Hello Samuel,

You will be shown which class you are booking when you make your booking. You can always select the class, type, number of doors and automatic transmission using the filter. If available, you can also select a diesel vehicle or four-wheel drive. The Acriss Code summarizes all of the vehicle properties that we advertise. Since the landlords abroad cannot do anything with the German description, the coding is indicated on the voucher. If the description on our website is not enough for you, you are of course also welcome to call.

Best wishes

Emma from billiger-mietwagen.de

Hello,
why is the code not shown right away, but only at the end of the booking? I would even like to be able to use the code as a filter.
An example of my last booking: The offer includes "Golf or similar" and for an extra charge "Audi A3 or similar". Due to a longer journey, I decided on the latter option. then there was a Citroen ...

Good day,

Many customers cannot necessarily read the vehicle class from the Acriss code, so we decided to write out the vehicle categories and provide them with sample images. I am happy to pass on your suggestion to also display the Acriss code on the page.

Kind regards, Pia from billiger-Mietwagen.de

I found Daniel's suggestion to be very useful, I just had to ask the service department again because I didn't have the definition ready. A link in the booking confirmation would be more than useful!

Thank you Anna. A really good overview.

It is a shame that cheaper-mietwagen does not specifically identify these codes itself, but instead uses its own vague phrases such as "upper middle class". If you then book that, you realize that you "only" get standard class (S). Not nice as an experience.

Good day,
Thank you very much for your feedback.
In principle, we are available by phone if you have any questions about the vehicle categories before booking.
The ACRISS code is shown in the rental car documents after booking.
Kind regards, Nicole from billiger-mietwagen.de