What's wrong with P Chidambaram
India is saving on arms spending
"Our budget is a signal to the whole world that we have embarked on a smart economic path," said Indian Finance Minister Palaniappan Chidambaram on Thursday (February 28, 2013) in the Indian parliament. Overall, the minister put the budget at $ 309 billion, an increase of 16 percent compared to the previous year. The clear loser is the military. The defense budget was increased by only about five percent. Last year it was 17 percent. The budget is currently around $ 40 billion. For comparison: the American defense budget is around 500 billion US dollars, the Chinese around 110 billion US dollars.
In March 2012, the then Commander-in-Chief of the Military Forces, Vijay Kumar Singh, wrote a letter to Indian Prime Minister Manmohan Singh. In it he described the constitution of the armed forces as "alarming" and warned against neglecting the modernization of the army. The nuclear power India has fought three wars against Pakistan and one short but violent border war with China since it gained independence in 1947. In addition, India has always provided a high contingent of blue helmet soldiers for United Nations peacekeeping operations.
How much armament does India need?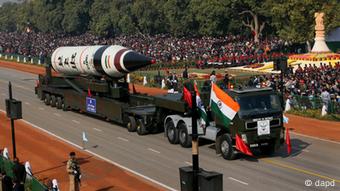 India's latest military achievement: the Agni 5 intercontinental missile
"The government had no other option than to focus on other areas this time if it wants to achieve its goal of lower national debt," says economic expert Praveen Jha. "In the past there had been repeated criticism that India allocates a disproportionately large amount to defense. Even more than would actually be appropriate for the country's internal and external security."
According to a study by the Swedish peace research institute SIPRI, India is currently in seventh place in the world for arms purchases. The announced purchase of 126 French Rafale fighter jets for around 7.5 billion US dollars caused a sensation, one of the largest military deals worldwide in recent years. Above all, India wants to modernize its air force. It also plans to buy 400 helicopters, as well as drones and other weapon systems. However, several corruption scandals are delaying these investments.
Between the need to cut costs and the capture of votes
Finance Minister Chidambaram wants to reduce the national debt significantly. At the same time, he wants to take political considerations into account. In 2014 there are elections in India, the world's largest democracy with 1.3 billion people. The 67-year-old Chidambaram is being traded as a possible candidate for the office of prime minister. The experienced politician therefore wants to distinguish himself on the one hand in the circle of his congress party, on the other hand also to win over as many voters as possible.
The Indian media therefore also describe the household as a household that "does not hurt anyone" and in which there is "something for everyone". "When we talk about a budget that arises out of electoral considerations, then it is about making allocations that are interesting for the masses. A great focus was therefore on the topic of secure food supplies," explains economist Praveen Jha from Jawaharlal -Nehru University in New Delhi in conversation with Deutsche Welle. Great attention was also paid to agriculture. Despite all the successes in the IT and telecommunications sector, two thirds of all people in India still work in agriculture or are indirectly dependent on it.
Chidambaram calls for the country to be opened up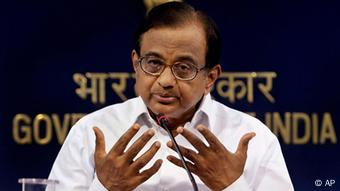 Finance Minister Chidambaram: "Smart economic path"
India is currently facing a mountain of problems. It is the tenth largest economy in the world and the third largest in Asia. While India's neighbor and rival China can still come up with very good growth forecasts despite the global financial crisis, India has recently had to repeatedly revise its growth forecasts downwards.
It is estimated that the Indian economy will grow by only about five percent this year, the worst rate in more than a decade. The steadily rising inflation, rampant corruption and ailing infrastructure have led to a decline in the confidence of foreign investors. Leading rating agencies have recently repeatedly issued warnings against doing business in India. "We do not have the choice to discuss whether we should welcome or reject foreign investments. Foreign investments are imperative," said Chidambaram in parliament, adding: "Doing business in India must be easy, unproblematic and mutually beneficial be viewed as profitable. "