Trump accuses women and the media of lies
At a campaign event in North Carolina, Donald Trump poked fun at a woman who made allegations of abuse against him. "Lies, lies, lies," said the 70-year-old in Greensboro about the allegations. About 74-year-old Jessica Leeds, who accused the real estate billionaire of touching her on a flight more than 35 years ago, Trump said, "Believe me, she wouldn't be my first choice, I can tell you." Trump earned laughter from his supporters.
The New York businessman said his team asked him to avoid the subject, but that he couldn't help but defend himself. He described his female accusers as "sick" people in pursuit of fame or money.
At another campaign event in Charlotte, Trump reached out to his female supporters. "I love these 'women for Trump' signs," he said when a woman held up such a sign. "I actually think I get along well with women." A new poll sees the Republican candidate 20 percentage points behind his Democratic rival Hillary Clinton among female voters.
Again violent media scolding
Trump also presented himself to his supporters as the victim of a media conspiracy. "The corrupt media are doing everything in their power to stop our movement," he said. The Mexican billionaire Carlos Slim, main shareholder in the "New York Times", is also involved. "Carlos Slim, as you know, is from Mexico. He gave millions of dollars to the Clintons and their initiative."
The affair began when the Washington Post newspaper published a clandestine recording from 2005 a week ago in which Trump boasted in vulgar terms that he had been assaulted against women. Shortly afterwards, two women spoke up who accused Trump of sexual harassment.
Trump spoke of "slander" behind which Clinton's campaign team is. Trump announced a lawsuit against the New York Times, which published several allegations. A number of prominent Republicans distanced themselves from him.
More and more allegations
Two other women made allegations against Trump on Friday. "He started kissing me aggressively and put his hand on my chest," Summer Zervos reported at a press conference in Los Angeles. Zervos had participated in Trump's reality show "The Apprentice". After leaving, she stayed in touch with Trump and met the billionaire at a Beverly Hills hotel in 2007.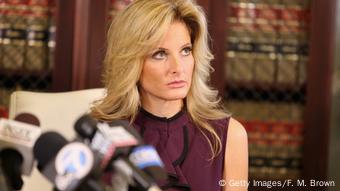 Summer Zervos puts pressure on Donald Trump
She wanted to talk about a job, but on arrival she was taken to a bungalow, where Trump kissed and groped her. "He hugged me and I tried to push him away." But he harassed her with his genitals. Zervos said she decided to go public after Trump denied ever molesting women.
Former model Kristin Anderson told the Washington Post that Trump grabbed her skirt and between the legs in a nightclub in the early 1990s. Trump's campaign team said Trump "vaguely" remembers Zervos. She continued to email his office after the show ended, asking for help. Trump rejected the allegation of sexual harassment.
kle / pg (afp, ape)