What is good and bad corruption
Corruption endangers democracy
A public hospital in Zimbabwe demanded five dollars from pregnant women who screamed in pain before or during delivery: five dollars as a "penalty" for every cry of pain that turned out to be a false alarm. After giving birth, the women were not released until they had paid.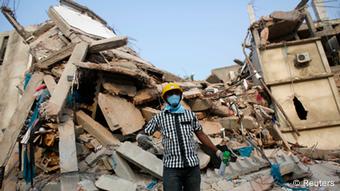 Corruption and botched construction led to the collapse of the Rana Plaza building in Dhaka
More than 1,000 people died in April when the Rana Plaza building in Bangladesh, which housed several textile factories, collapsed. The owner is said to have bought the permit for the construction of additional floors in exchange for bribes in order to circumvent security requirements. The anti-corruption organization Transparency International (TI) defines corruption as the "abuse of entrusted power for private gain or advantage."
The global corruption barometer presented on Tuesday (July 9th, 2013) by Transparency International documents that corruption in politics, business and public administration is increasingly perceived as a problem worldwide. The population survey in 107 countries examines how corrupt individual sectors are perceived. More than half of the world's people believe that corruption has increased in the past two years. 27 percent said they had paid bribes to administrative or police employees in the past year. In an international comparison, the political parties are most often perceived as the most corrupt institutions.
Germany is well above the average: 57 percent of those surveyed believe that corruption has increased. This is "remarkable," said Edda Müller, chairwoman of Transparency International, to DW, "because Germans used to assume that corruption does not play a major role in our country, but rather takes place in distant countries."
The media have a bad reputation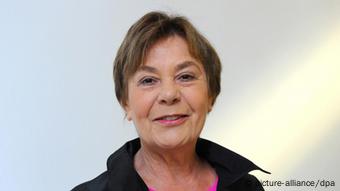 Edda Müller, chairwoman of Transparency International
On a scale from one (not at all corrupt) to five (very corrupt), Germans rate the political parties with 3.8, the private sector with 3.7 and the media with 3.6. The latter surprised Edda Müller: "We need the media to raise awareness of the problem. It is new that they themselves are now suspected of not being independent and of corrupting advantages." On the one hand, more and more smaller newspapers were becoming economically dependent on advertising customers, according to Müller. On the other hand, there is no transparent explanation of how the fees for public broadcasting in Germany are used.
The German Association of Journalists (DJV) speaks of an "alarm signal". DJV chairman Michael Konken said: "Credibility is the greatest asset of newspapers, magazines, radio and online portals. When people no longer trust the media, it is high time to take countermeasures."
Politics is losing credibility
Political scientist Edda Müller also finds the poor image of political parties around the world "devastating", with a global average of 3.8. "With all possibilities of direct influence via social media and other direct democratic methods, we need institutions that organize politics and opinion-forming." The political parties are irreplaceable as mediators between the citizens and the political process. "If they discredit themselves in this way, then it is a very dangerous development for democracy."
The Arab Spring showed where this development could lead in extreme cases, continued Müller. "Hot spots, revolts, armed conflicts and disputes similar to civil wars are often particularly strong in countries that are affected by a high level of corruption and where people have the feeling that things are not being done fairly here." The overthrow of the Morsi government in Egypt is an example of how "corruption threatens peace".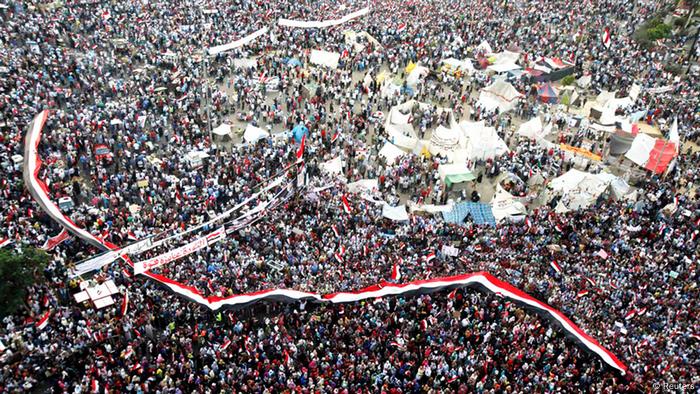 The trigger for the anti-Morsi protests in Egypt was, among other things, anger over corruption and the poor economic situation
UN Convention against Corruption
Ten years ago the UN passed a convention against corruption with the aim of preventing all forms of political bribery and manipulation in the public and private sector. The rules apply to civil servants and members of parliament alike. 161 states have already ratified the convention. For ten years, Germany has been one of the few countries that has refused to comply with the rules.
TI chairman Edda Müller finds it "unbearable" that the parties that are represented in the Bundestag could still not agree to adopt a tightening of the criminal offense of bribery of parliamentarians, and thus prevent the UN Convention against Corruption as well is implemented. " Most recently, the CDU / CSU and FDP voted against stricter corruption rules with their majority in the Bundestag at the end of June. The opposition wanted to enforce a prison sentence of up to five years for corrupt MPs.
Political engagement pays off
The few countries in which the respondents perceive corruption to have decreased include countries as diverse as Belgium, Fiji, Rwanda, Sudan and South Sudan, Taiwan, Serbia, Cambodia, Georgia and the Philippines. A panacea can not be read from it, but this assessment shows that "reforms were perceived as positive by the people, so that a trend has reversed." This shows that you can "turn around problematic situations if you do something about it efficiently and politically," said Müller.
In Zimbabwe, Transparency International has made the government aware of the maladministration in the healthcare system. The Ministry of Health then reviewed the entire health system. Since then, there have been no further complaints about arbitrary fee claims for childbirth, according to Transparency International.