What is pseudoexfoliation syndrome
Pseudoexfoliation syndrome
10/01/2012 | Leading theme | Edition 10/2012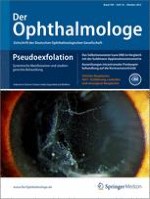 Clinical diagnosis and systemic manifestations
Magazine:

The Ophthalmologist> Edition 10/2012
Authors:

E. Scharfenberg, U. Schlötzer-Schrehardt
Summary
The pseudoexfoliation (PEX) syndrome is playing an increasingly important role in everyday clinical practice due to demographic change. In addition to the risk of developing cataracts and glaucoma, PEX syndrome also predisposes to a wide range of clinical and surgical complications due to the involvement of the entire anterior segment. The exact and early diagnosis of PEX syndrome is of clinical relevance in view of the high risk of glaucoma and the potential complications in the context of cataract surgery. A reliable diagnosis of the clinical picture can only be made after the pupil has been dilated due to the frequent lack of central lens deposits. Early stages can be recognized by subtle lens changes in association with pigment dispersion, pupillary rim atrophy and mydriasis weakness. If there are asymmetrical findings with regard to pupil size, degree of pigmentation, cataract and intraocular pressure, the suspicion of PEX syndrome should be investigated. Although the description of the PEX syndrome as a systemic process of the extracellular matrix, accompanied by PEX deposits in the skin, vascular walls and numerous organ systems, was made in the early 1990s, the causal relationship between these deposits and the presence of a systemic disease has not been conclusively clarified . A growing number of individual studies have provided indications of associations between PEX syndrome and cardiovascular and cerebrovascular diseases. However, the evidence is still inconclusive, and there is a need for further clarification through population-based, prospective, randomized studies.
For your success in clinic and practice - the best help in your everyday work as a doctor
With e.Med Interdisciplinary you get access to all CME training courses and specialist journals on SpringerMedizin.de.
*
You can test e.Med Interdisciplinary for 14 days free of charge (no print magazine included). The test expires automatically and informally. It can only be tested once.
literature